Chinese runner recalls city's marathon for its usual dress code and enthusiastic fans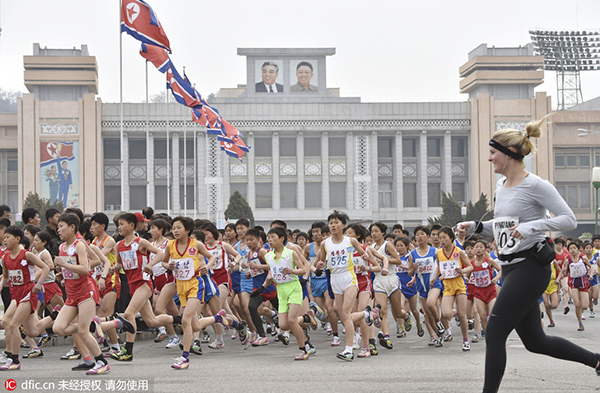 Runners compete during an annual marathon in Pyongyang on April 11, 2015. About 650 foreign runners from more than 30 countries took part in the event.[IC/Photo]
Hu Jinnan's passion for running international marathons has taken him around the world. From New York City to Tokyo, he's crossed the finish line in a dozen such events.
So, naturally, the Pyongyang International Marathon was a challenge too good to miss.
"I was tempted by the mystery of the Democratic People's Republic of Korea, and I just love running marathons," says the 37-year-old, one many Chinese athletes who have taken part since the race was opened to amateur overseas runners in 2014.
Hu booked a three-day trip for the 2015 event through a Chinese travel agency. The package cost about 5,000 yuan ($770; 680 euros) and included a roundtrip to Pyongyang on Air Koryo, hotel accommodation and entry to the marathon.
When he arrived on April 11, he says he discovered his fellow guests at the hotel were almost entirely Chinese.
"I'm the kind of person who is comfortable with wherever food or accommodation is offered up during a trip. So I didn't make any special preparations," Hu recalls.
The next day, he rose at 6 am and took a shuttle bus to the 60,000-seat Kim Il-sung Stadium to join more than 500 international runners at the starting line. (This year, the marathon started in Rungrado May 1 Stadium, the largest arena in the world with a capacity of 150,000, and reportedly attracted at least 1,000 runners from outside the DPRK.)
The route through downtown Pyongyang passes some major landmarks, including Kim Il-sung University and the city's Arch of Triumph. Photography was allowed during the race, according to Hu.
He says there were no security checks at the starting line or portable toilets, and that the rules for runners' attire were unusual. For example, entrants were told beforehand not to use compression wear under their suits because "it is adverse to the tastes of the Korean people", although he says that the dress code was not strictly enforced.
In the end, Hu finished outside 3 hours 52 minutes, almost 16 minutes slower than his personal best but eight ahead of the event's closing mark, a relatively tough task for many amateur runners.
"The organizers literally closed the gates to the stadium (where the race also finished) after four hours, and any runners after that were not able to enter," he says.
Hu, who works for a media company in Beijing, says his lasting impression is of the local spectators. He says they were much more active and enthusiastic than he expected, in particular the women and children inside the stadium and along the marathon route.
"The men appeared to be a little bit uptight, but the women and children were vocal in their support all the time, even sometimes shouting in Chinese. It looked like they enjoy the race very much," he says.
"It was a pretty amazing moment to hear thousands of people cheer when you raced inside the stadium."