Brazilian soccer clubs offer players, assistance to Chapecoense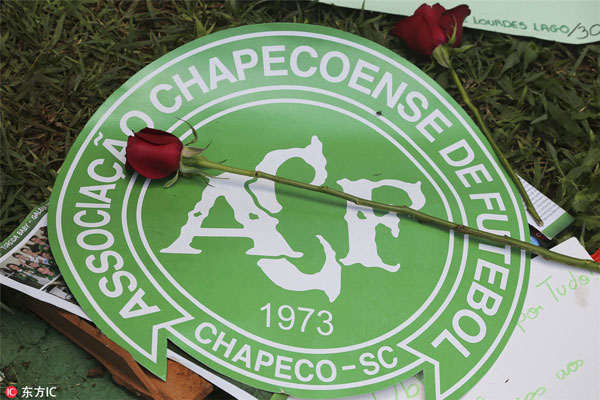 A red rose sits on top of the Chapecoense soccer team logo outside the Arena Conda stadium, where team fans are gathering in Chapeco, Brazil on Nov 29, 2016. [Photo/IC]
SAO PAULO - Brazil's top flight football teams offered to loan players to Chapecoense for next season after the small southern club lost almost all its players in a plane crash in Colombia.
The teams on Tuesday also asked the Brazilian Football Confederation (CBF) to give Chapecoense a three-year exemption from relegation - the process through which teams are assigned to a lower classification if they do not perform well.
The Brazilian team was on its way to Medellin to play Colombian side Atletico Nacional in the final of the Copa Sudamericana, South America's equivalent of the Europa League, when its plane crashed into a hillside on Monday night.
"It is the minimum gesture of solidarity that is within our reach at this point in time but it is borne of the sincerest desire to reconstruct this institution and that part of Brazilian football that was lost today," the statement said.
The CBF did not immediately respond to the offer.
Wednesday's final was canceled and all games scheduled for the upcoming week in Brazil were postponed.
Most Popular
Highlights
What's Hot