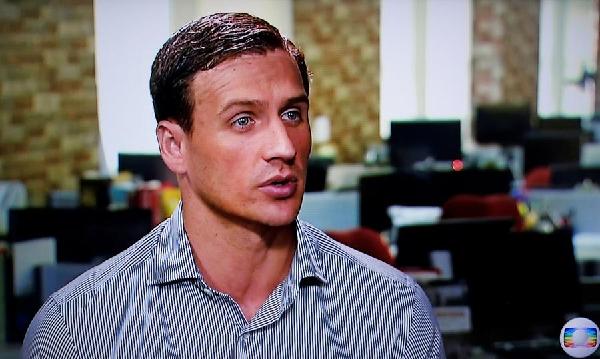 In this still image from video Olympic gold medallist swimmer Ryan Lochte of the US gives an interview to Globo TV at their studios in New York City, August 20, 2016. [Photo/Agencies]
US swimmer Ryan Lochte landed a new endorsement deal on Thursday days after losing all his major sponsors even as the fallout from the Rio Olympics continued as Brazilian police recommended he be charged with falsely reporting a crime.
Pine Bros Softish Throat Drops, which makes cough drops, said it had signed Lochte, a 12-time Olympic medalist, for a television commercial and print ads.
Lochte, 32, lost all four of his major sponsors on Monday, including Speedo USA and Ralph Lauren Corp (RL.N), following his apology for an "exaggerated" story about being robbed at gunpoint in Rio de Janeiro after a party.
"We all make mistakes, but they're rarely given front page scrutiny," Pine Bros Chief Executive Rider McDowell said in a statement on Thursday. "I'm confident that Pine Bros fans will support our decision to give Ryan a second chance."
Lochte's account of being held up with three team mates by men dressed as police officers embarrassed the host city, angered local officials and dominated news coverage of South America's first Olympics, amid heightened concerns over security in the crime-ridden metropolis.
Police and Lochte's teammates subsequently said that he had committed an act of vandalism at a gas station and became embroiled in a dispute with employees, who had demanded compensation. One of the security staff drew his weapon when the row became heated, police said.
Rio police said in a statement they had recommended that prosecutors bring charges against Lochte for falsely reporting a crime - a minor misdemeanor normally punishable by a fine.
Teammate Jimmy Feigen agreed last week to pay 35,000 real ($10,833) to a charity in Rio in compensation for having the same charges dropped and the return of his passport, which had been seized by police, authorities said.
Lochte had left Brazil the day after the incident at the gas station took place.
Police said in their statement that the investigator in charge of the case had recommended to judges that Lochte be deposed in the United States and that a transcript be sent to the ethical commission of the International Olympic Committee (DOC).
Lochte won one gold medal at the Rio Olympics. He was the breakout star of the 2012 London Olympics, landing a short-lived reality TV series called "What Would Ryan Lochte Do?" and appearing, as himself, on top shows such as "30 Rock" and "90210".
In a tweet on Thursday, Lochte said: "Thanks to all the folks at Pine Bros for your confidence in me. I look forward to making you proud."