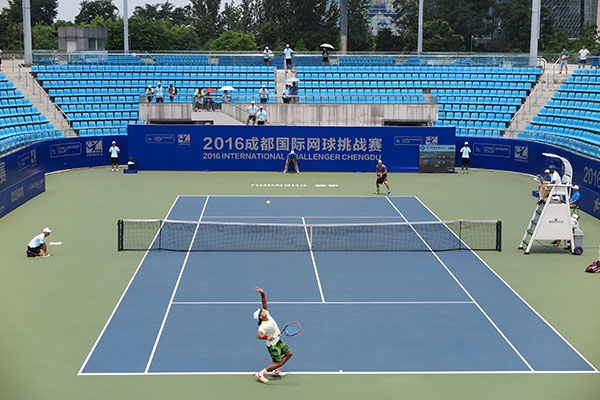 A player tries to hit the ball on the first day of the 2016 International Challenger Chengdu on Saturday. [Photo by Huang Zhiling/chinadaily.com.cn]
The 2016 International Challenger Chengdu kicked off on Saturday in the Sichuan International Tennis Center in Chengdu, capital of Southwest China's Sichuan province.
As the first professional ATP tennis tournament held in Chengdu, the nine-day event will draw 64 professional players from 24 countries.
With the total prize money of $125,000, the competition will draw Seong Chan Hong from South Korea who was the winner of the men's title at the Second International Tennis Federation (ITF) Junior Masters, said Tan Xuejun, chief of the Chengdu Sports Bureau.
The three-day second ITF Junior Masters concluded in the Sichuan International Tennis Center on April 10, with Anna Blinkova from Russia winning the women's title, and Seong Chan Hong from South Korea taking home the men's title.
As part of the event marking the start of the challenge, a junior training camp opened in the Sichuan International Tennis Center on Saturday, with 31 children learning how to play tennis from Zhang Ze, a 26-year-old Chinese tennis ace.
Zhang showed the children how to use the racket and played pair exercise with each child.
Zhang Yu, a seven-year-old boy, was so nervous seeing his idol Zhang Ze that he failed to hit the ball many times.
"Brother (Zhang Ze) was so patient in teaching me till I could hit the ball," he said.
Zhang Ze said he was happy to play with children despite the summer heat. "Several major tennis events have been held in Chengdu this year and I feel locals' zest for tennis," he said.
According to Tan, Chengdu now has more than 1,500 tennis courts since the city's first was built 100 years ago.
"Each year, more than a million people in the city play tennis," she said.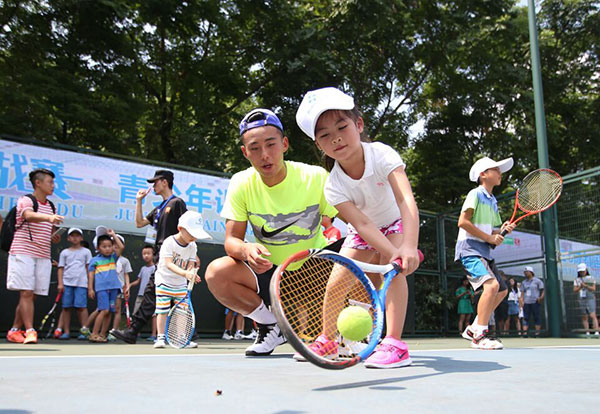 Zhang Ze, a Chinese tennis ace, teaches a girl how to use the racket on the first day of the 2016 International Challenger Chengdu on Saturday. [Photo by Tu Xin/chinadaily.com.cn]