YUSHAN, CHINA -- Ding Junhui joined Mark Selby, Stuart Bingham' s club to be another top 10 player ruled out in a 1-5 defeat at 2016 Snooker World Open held in Yushan, a county of China' s Jiangxi Province here on Wednesday.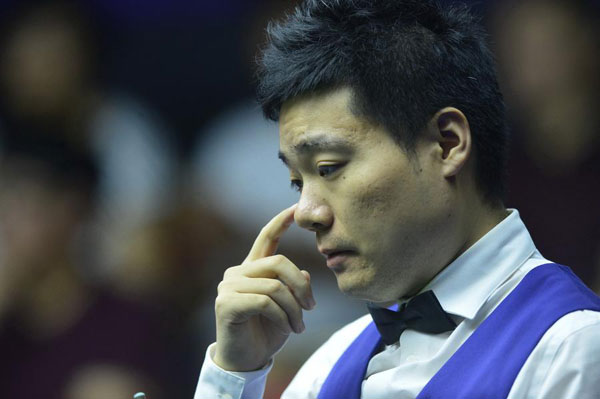 Ding Junhui reacts during the face-off against Ben Woollasto. [Photo/Xinhua] 
Ben Woollasto soon took a 3-0 lead in this second round clash. The 89-point break in the fourth frame was Ding''s only highlight performance tonight, the 58-point one was soon outscored by Woollasto' s 60 in the following frame. The last frame witnessed a 56-29 victory of the British to send Ding out of the contention of the title.
"Actually I thought I played better than the two previous matches, but he left me no options in the beginning," said Ding, "Woollasto is not the kind of player who had obvious characteristics but it' s very hard to play against him."
24-year-old Zhang Anda became the only Chinese player remains in the last 16 after upsetting Judd Trump 5-2 tonight.
World Championship winners of 2015 and 2016, Stuart Bingham and Mark Selby respectively lost to Allister Carter and Thepchaiya Un-Nooh 3-5 and 3-5.