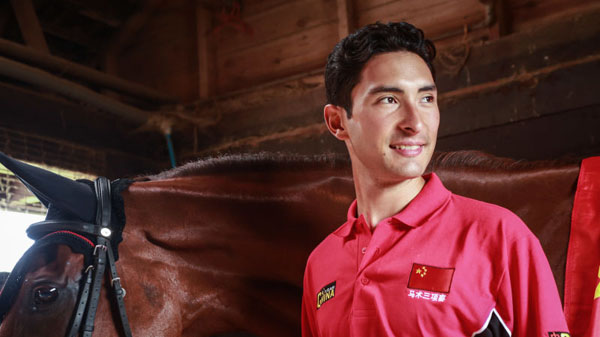 Chinese Olympian rider Alex HuaTian poses with his horse Don Geniro in Manchester, Britain, on July 26, 2016. [Photo by Wang Jingyuan/Provided to China Daily]
Rio-bound Chinese star rider Alex HuaTian may find his horse stealing some public attention from him.
Although he's the only Chinese rider qualified for the upcoming Olympics, HuaTian is not on his own. Travelling together with him to Brazil will be Don Geniro, a nine-year-old horse that has shared honor with him before.
The Olympian announced the decision to take Don Geniro with him in Manchester on Tuesday, rather than the much older Harbour Pilot C, a 17-year-old racing horse that had long been seen as HuaTian's first choice.
The much younger Don Geniro has a striking resume. HuaTian won the second leg of the Event Rider Masters with this horse at the Equi-Trek Bramham International Horse Trials in June.
A mixture of races can be clearly seen through HuaTian's facial features. Born in London to a British mother and a Chinese father, HuaTian has become the most, and probably the only, globally recognizable Chinese equestrian star.
The BBC named HuaTian China's "one in a billion" rider in a 2014 report, given that equestrianism is not as popular in China as it is in his mother's homeland, Britain.