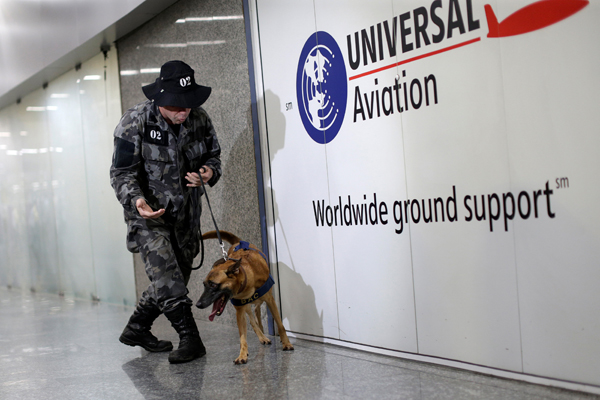 Workers are pictured at the construction site of the Rio 2016 Olympic Tennis venue at the Rio 2016 Olympic Park in Rio de Janeiro, Brazil, July 4, 2016. [Photo/Agencies]
SECURITY
Days after Dornelles declared a financial emergency, the federal government agreed toprovide the state with 850 million US dollars in emergency funds to guarantee security during the Games.
Brazil plans to deploy 85,000 soldiers and police during the Olympics, about double the number used at the London 2012 Games.
Earlier this year Rio's state government cut 550 million US dollars from its Olympic security budget, but denied the move posed a risk to safety.
In May, Dornelles issued a request for the federal government to deploy national armed forces in the city's streets as part of a 15,000-strong military contingent during the Games.
Brazil has also launched an awareness campaign designed to foil possible terror plots during the mega-event.
The initiative involves the distribution of brochures, posters and booklets explaining how to identify people engaging in suspicious activity.
In June the government said Brazil's intelligence agencies were working alongside counterparts in the United States, England, France, Israel and Russia to counter the threat of terrorism.