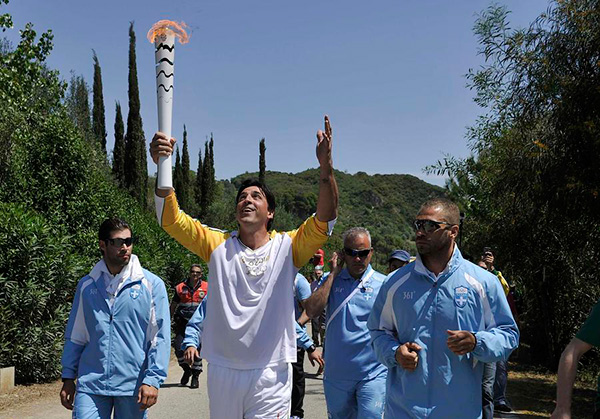 Olympic flame second torch bearer, former volleyball player Giovane Gavio from Brazil, attends the Olympic flame lighting ceremony for the Rio 2016 Olympic Games inside the ancient Olympic Stadium on the site of ancient Olympia, Greece, April 21, 2016. [Photo/Agencies]
CITY INFRASTRUCTURE
While swathes of Rio still resemble vast construction sites, many infrastructure projects slated for the Olympics are almost ready.
Asphalt for new express bus lanes to Olympic venues has been laid while a road featuring Brazil's longest underground tunnel - bypassing the city centre - has also been partially opened.
Refurbishment work at Rio's Tom Jobim international airport will also be concluded within days, officials have said.
But there is still doubt over whether a new metro line connecting the city to Olympic Park in Barra da Tijuca will be ready in time.
Some of the new stations are yet to open and engineers are still conducting tests along the 16km stretch of tracks. The state government has said the line will open on August 1, four days before the Games begin.
Laborers are also scrambling to finish a new tram line linking Rio's domestic airport to its major bus terminal, via the revamped port district.
Infrastructure concerns were heightened in April when an elevated bicycle track collapsed into the sea, killing two people.