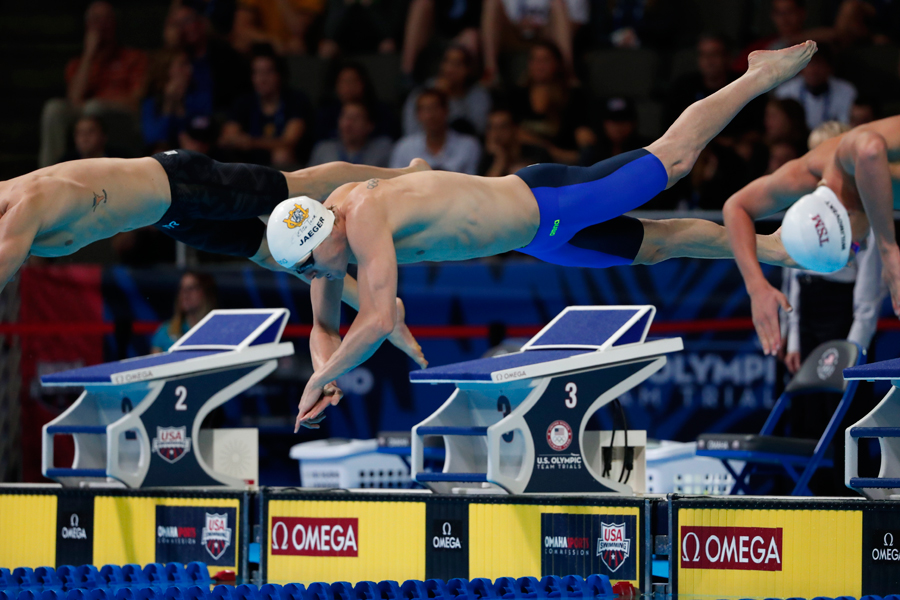 Connor Jaeger starts the men's 1500 meter finals in the US Olympic swimming team trials at CenturyLink Center, Omaha, Nebraska, US.[Photo/Agencies]
Connor Jaeger and Abbey Weitzeil wrapped up eight days of cut-throat competition by claiming the last two wins at the US Olympic trials on Sunday as the final pieces of the Rio Games swim team were put in place.
It was the second victory of the trials for both Jaeger and Weitzeil, who will be part of the 45-member squad that includes 30 first-time Olympians.
Jaeger, who qualified in the 400m free on the opening day of the trials last Sunday, was back in the CenturyLink Center pool for the finale touching first in the 1,500 meters freestyle in 14 minutes, 47.61 seconds, fourth fastest time in the world this year, while Jordan Wilimovsky secured the last spot on the squad with his runner-up finish.
Weitzeil, winner of 100 meters free, added the 50 free to her Rio agenda getting home in 24.28, just 5/100ths of a second in front of Simone Manuel.
With the trials over the focus quickly shifts to the Rio pool next month where the US will look to a mix of youth and experience to produce an American gold rush.
At one end of the spectrum are Michael Phelps, the most decorated Olympian of all-time with 22 medals, who qualified for his fifth Games and Ryan Lochte his fourth. At the other extreme are 30 Olympic newcomers.