Michael Phelps: '100%' ready for Rio
China is seeing a surge in sports participation, and maybe someday it will have an Olympic swimmer who can strive for the success of American swimming legend Michael Phelps.
Phelps was on hand at Under Armour (UA) headquarters in Baltimore on Tuesday to promote a new commercial he has made with the US sports apparel maker.
Phelps said he is ready for the upcoming Rio 2016 Summer Olympics.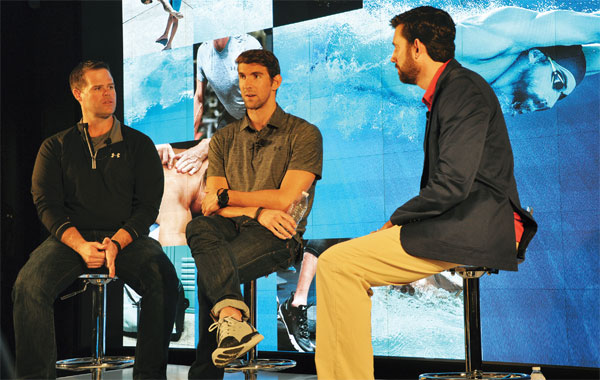 Michael Phelps (center), the American swimmer who has the most medals (22, 18 of those gold) of any Olympian, talks about his training for his last splash in the Rio 2016 Summer Olympics. Keenan Robinson (left), Phelps' strength coach, and Evan Brady, a category manager of Olympics and tennis at Under Armour, joined Phelps at the company in Baltimore on Tuesday. Dong Leshuo / China Daily
"I'm not worried about anything in Brazil. We're happy with how things have been going in training and preparations," he said. "I tried to make sure that I'm 100 percent prepared. The results speak for themselves."
Phelps, who won eight gold medals at the 2008 Beijing Olympics, is the all-time leader in Olympic gold medals with 18. He also has the most medals overall, with 22.
Phelps said that "without question" Rio will be his last competition.
As for China's swimmers, Li Zhuhao, born in 1999, is one of the most promising. Li broke the junior world record in the 200-meter butterfly with a time of 1:55.52 in September.
Phelps' best in that event was 1:51.51 in 2009, while he was 24.
China's Ning Zetao, who won the gold medal in the men's 100-meter freestyle at the 2015 World Aquatics Championships in Kazan, Russia, has a record of 47.84, 0.09 seconds ahead of Cameron McEvoy of Australia, who finished second.
Phelps turned in a 47.51 in the 4-by-100 meter freestyle relay in the 2008 Olympics; Ning's personal best in 100 meters is 47.65 in the 2014 Chinese National Swimming Championships.
Besides swimming, China has shown a burgeoning interest in sports activity in general.
"Marathons are huge right now; urban run clubs are popular," said Adrienne Lofton, senior VP of global brand marketing at UA.
UA plans to open 100 new stores in China by year-end, Lofton said.
Kevin Haley, UA president of products and innovation, also has noticed a change in the passion for sports in China.
Haley noticed during a trip to China in 2008 that "if you went to a gym, a lot of times you would see expats or people from the hotel, where now today, in the past four to five years, it's unbelievable the transitions that are taking place."
"It's fairly well-known that it comes from two directions," he said. "One is the natural interest (in sports) as (part of an active) and healthy lifestyle.
"You also have the government saying that this is something (it is) interested in investing in," he said.
leshuodong@chinadailyusa.com