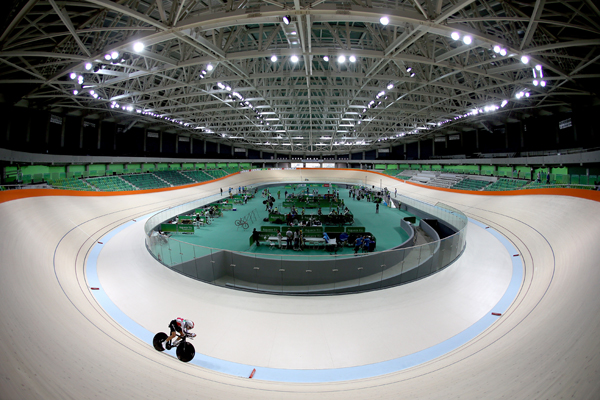 A cyclist trains at the newly delivered Olympic Velodrome at Olympic Park on June 26, 2016 in Rio de Janeiro, Brazil.[Photo/VCG]
RIO DE JANEIRO -- Rio 2016 organizers received the keys to the city's new velodrome on Sunday as laborers continued to work around the clock to ensure the venue is ready for the Olympic Games in August.
Journalists were allowed only partial access during the ceremony, which was preceded by a testing session of the track by Brazilian and Swiss cyclists.
"I like it. I think it looks great. I'm satisfied," said the International Olympic Committee's Games director, Cristophe Dubi.
"There are still some finishing touches that need to be done, but the most important aspect, which is where the athletes will compete, is very good."
Rio's city government had scheduled the key presentation ceremony for Saturday but the event was postponed due to unfinished work on the venue's facade.