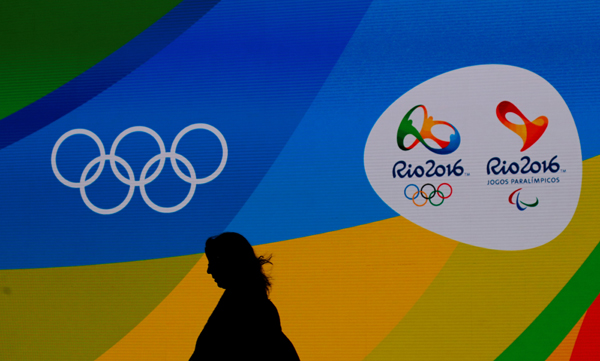 A journalist walks in front of a screen with Olympics logos during the medal launching ceremony in Rio de Janeiro, Brazil, June 14, 2016.[Photo/Agencies]
GENEVA/CHICAGO - There is a "very low risk" of further international spread of Zika virus as result of the Olympic Games to be held in Brazil, the heart of the current outbreak linked to birth defects, World Health Organization (WHO) experts said on June 14.
The WHO's Emergency Committee on Zika reaffirmed its previous advice that there should be "no general restrictions on travel and trade with countries, areas and/or territories" with Zika transmission including cities in Brazil hosting the Olympics that start on Aug 5, and with the Paralympic Games that follow in September.
The third meeting of independent experts, which gathers every three months to access the Zika outbreak, came amid intensifying concerns over the staging of the Olympics in Brazil, the country hardest hit by the virus.
"The risks are no different for people going to the Olympics than for other areas where there are outbreaks of Zika," David Heymann, chair of the WHO's expert panel, told reporters at WHO headquarters in Geneva after the meeting.
Brazilian authorities have confirmed more than 1,400 cases of microcephaly in babies whose mothers were exposed to Zika during pregnancy. Microcephaly is a birth defect marked by small head size that can cause severe developmental problems in babies. The virus has also been linked to Guillain-Barre, a neurological disorder in adults.
International Olympic Committee Chairman Thomas Bach said the WHO's conclusion was "very positive" for the Rio Games.