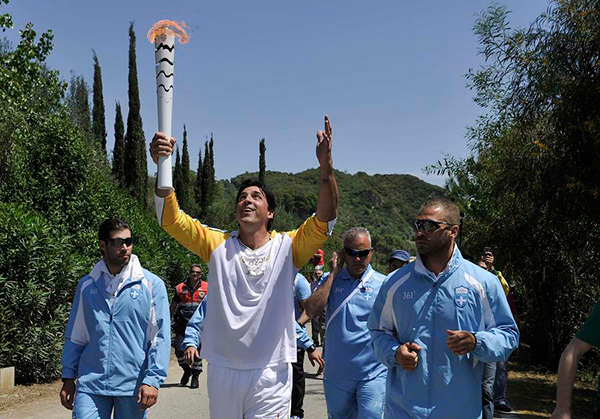 Olympic flame second torch bearer, former volleyball player Giovane Gavio from Brazil, attends the Olympic flame lighting ceremony for the Rio 2016 Olympic Games inside the ancient Olympic Stadium on the site of ancient Olympia, Greece, April 21, 2016. [Photo/Agencies]
RIO DE JANEIRO - The Rio 2016 Olympic torch will begin its 95-day journey through more than 300 Brazilian cities on Tuesday as the final countdown begins for the first Games in South America.
Since being lit at the Games' birthplace in Olympia on April 21, the torch has traveled through parts of Greece and Switzerland - where it made brief stops at the United Nations office in Geneva and the Olympic museum in Lausanne.
It was due to arrive by plane in the capital Brasilia before midday, embarking on the first leg of its Brazil tour - a 105km relay around the Federal District in central Brazil.
In total, the torch will be carried for more than 19,000km in Brazil, passing through 26 state capitals.
Each of the 10,000 bearers will carry the torch for no more than 300 meters.
The first Brazilian to carry the Rio 2016 flame was two-time Olympic volleyball champion Giovane Gavio, who represented the host nation at the flame-lighting ceremony in Olympia.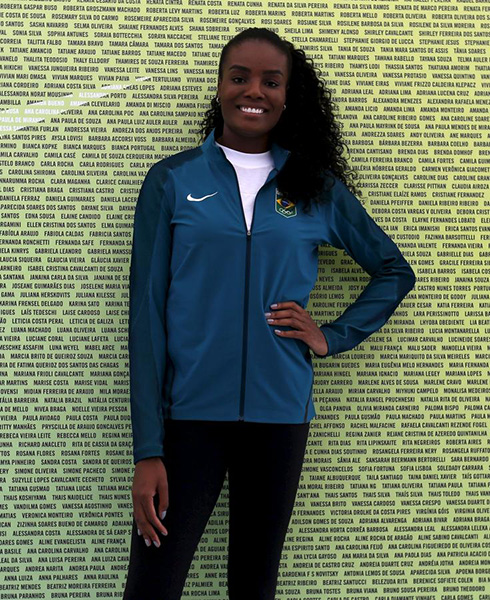 Volleyball player Fabiana Claudino presents the official uniform of the Brazilian Olympic team for the 2016 Rio Olympics in Rio de Janeiro, Brazil, April 9, 2016. [Photo/Agencies]
The first torchbearer in Brazil will be Fabiana Claudino, also a two-time Olympic volleyball gold medallist and a member of Brazil's current Olympic squad.
She will hand the torch to Rio resident Artur Avila Cordeiro de Melo, the first Latin American to win the Fields medal, awarded for excellence in mathematics.
Next in line will be Gabriel Hardy, a 16-year-old karate starlet who has already won several regional accolades and is part of the Rio 2016 Transforma education program.
Angelo Assumpcao, a 19-year-old artistic gymnast and one of Brazil's brightest Rio 216 gold medal hopes, will follow.
It will then be the turn of Aurilene Vieira de Brito, who won a series of awards in mathematics and chemistry to transform his school in the poor northeastern state of Piaui into one of the country's best.
Aurilene will pass the torch on to Hanan Khaled Daqqah Hanan, a 12-year-old refugee from Syria. Hanan and her family fled a refugee camp in Jordan before finding a new home to Sao Paulo as part of a Brazilian government humanitarian program.
Adriana Araujo - Brazil's only female boxing Olympic medallist - and 2014 world surfing champion Gabriel Medina will follow.
Another two-time Olympic volleyball champion, Vanderlei Cordeiro de Lima, will be the 10th Brazilian to carry the flame.