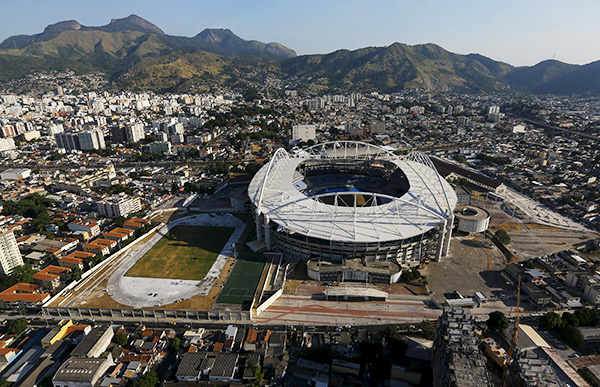 An aerial view shows Rio Olympic Stadium in Rio de Janeiro, Brazil, April 25, 2016. [Photo/Agencies]

RIO DE JANEIRO - With 100 days to go before the Olympic Games begin in Rio de Janeiro, Brazil faces a novel situation: The venues are ready, but there are also a bunch of key challenges facing organizers ahead of the opening ceremony on August 5.

Unlike the World Cup in Brazil two years ago, the Rio Olympics have mostly escaped controversy about venue delays.
Organizers say sports facilities are 98% complete overall with only the velodrome running late.

Problems in laying the velodrome's surface forced the cancellation of a track cycling test event last month, but Rio 2016 chief Carlos Nuzman said the venue is only a fortnight behind schedule.

The tennis center is also only 90% complete although Rio officials have said it is progressing on time.
Also unlike the World Cup, there has been no public backlash towards the Olympics from Brazilians.
In a recent press release, the IOC said 70% of Rio residents were in favor of hosting the mega-event, showing that "local citizens see the Games as a positive element in the development of their city and country."
Despite the encouraging progress of preparations, the IOC's coordination commission warned that the most testing part of Rio's Olympic build-up was yet to come.
"The last stretch is always the hardest," commission chairwoman Nawal El Moutawakel said after the body's final pre-Games visit to the city earlier this month. "During the operational phase that we are entering now, there are thousands of details still to manage, and their timely resolution will make the difference between an average Games and a great Games."
Political crisis, recession

Brazil's lower house last week voted to impeach President Dilma Rousseff for her alleged manipulation of government accounts. The motion against her has now been passed to the senate, which could decide in favor of an investigation into the claims as early as next month.
That would force Rousseff to step aside for at least 180 days, raising the prospect that her deputy, Michel Temer, will lead the government during the Olympics.
The political turbulence comes amid a sprawling corruption scandal at state-run oil company Petrobras and a deepening recession that threatens to erode Brazil's social and economic gains made under Rousseff's predecessor, Luiz Inacio Lula da Silva.
The beginnings of the crisis were evident during the lead up to the 2014 World Cup, when millions of Brazilians marched through major cities to protest against stadium costs, corruption and shoddy public services.