Xu Guiyuan's field of dreams is already yielding a crop of compliments.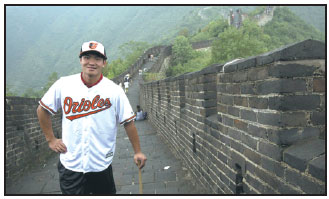 Xu Guiyuan of Shenzhen made history last year when he became the first graduate of MLB's three development centers in China to sign a contract to play pro baseball. Provided To China Daily
It has been just three weeks since the 20-year-old infielder made the 12,000-kilometer trek from Shenzhen, Guangdong province, to the US state of Florida to launch his professional baseball career - but by all accounts he looks right at home.
Not a bad adjustment for a kid who has already been labeled a "pioneer".
Last July, Xu became the first graduate of Major League Baseball's three development centers in China to sign a pro contract when he agreed to a minor league deal with the Baltimore Orioles.
On March 17, in his first inter-squad game at the O's spring training compound in Sarasota, the 6-foot, 190-pounder drilled his first hit - a sharp single - and drove in two runs.
Since then, the left-hand hitting Shenzhen native has continued to impress the coaching staff with his hustle and willingness to learn.
"I think Xu understands this is a heroic quest," Orioles executive vice-president Dan Duquette told the Baltimore Sun. "He's a pretty good hitter. It looks to me like he knows his way around the batter's box. He's got decent power. Good balance, short swing.
"Maybe he hits in the big leagues one day, maybe he doesn't. Either way, he's going to have this great knowledge and great skill that he'll be able to pass on to the next generation of players in China."
With rosters being finalized this week, Xu will likely be assigned to start the season with the Orioles' rookie affiliate in Florida's Gulf Coast League. If he continues to improve, he could be promoted to the Maryland-based Aberdeen IronBirds of the Class-A New York-Penn League by early summer.
Through an interpreter, Xu told the Sun newspaper that while it is "a great honor" to be an Orioles prospect, he feels the weight of representing his homeland. An American documentary film crew and two Chinese TV networks are chronicling his day-to-day adjustment to living and playing in the US.
Nickname 'Itchy' after his idol, Japanese MLB star Ichiro Suzuki, Xu first caught the eye of American scouts as a 13-year-old southpaw pitcher. At Dongbeitang middle school and the MLB development center in Wuxi, Jiangsu province, he blossomed into a two-time China National Youth League Most Valuable Player and was twice named an MLB Taiwan Elite Camp All-Star.
MLB International opened its first China development center in Wuxi in September 2009. In addition to excellent education, recruits receive baseball training and English lessons to prepare them for global opportunities. Two more DCs have since opened, in Changzhou and Nanjing.
The three centers provide accommodation and education for 80 student-athletes, who attend classes every day and study halls at night. They play baseball after school and on weekends. Of last year's 22 graduates, 14 committed to Chinese universities.
"The success of the DCs is encouraging, but we essentially are still in the top half of the first inning of the history of MLB in China," said Chris Park, the league's senior vice-president for international strategy.
"In many different ways, we are an in early-stage startup - culturally speaking, as an education partner, as a media entity and as a participatory sport. But we are really excited about the path we're on."
In January, MLB signed a three-year deal with China's LeSports to stream 125 live regular-season and playoff games and the World Series nationwide for the first time this year. Jim Small, who oversees the Asia Pacific region for MLB International, said it is another sign America's national sport is on the verge of cracking China's mainstream.
"All the ethereal things about baseball - no clock, the sacrifice, the journey around the bases that starts and finishes at home - it all resonates in Chinese culture," Small told MLB.com.
"I'm convinced that if baseball was around during Confucius' time, he would have been a huge fan."
Another boost came last week when the Korea Baseball Organization, which oversees the professional game in South Korea, announced finalization of a cooperative exchange agreement with the Chinese Baseball Association covering several areas, including marketing, coaching and player development.
"These agreements are a first step into the Chinese market," the KBO said in a statement.
"By strengthening bilateral exchanges and promoting Korean baseball in China, we hope to expand our market while at the same time help continue to grow Chinese baseball at the grassroots level."
A game with long roots
Baseball in China dates to the founding of the Shanghai Base Ball Club by expatriate Americans in 1863. By 1895, three schools - Huiwen College and Tongzhou College in Beijing and St. John's College in Shanghai - had organized programs.
On June 2, 1905, St. John's College defeated the Shanghai YMCA in the first game between two all-Chinese teams on the mainland. Two years later, Huiwen and Tongzhou squared off in the nation's first intercollegiate game.
In 1915, China placed second to the Philippines in a Greater Asia tournament held in Shanghai, and the game continued to grow for the next 20 years. In 1959, teams from 30 regions came together for the first national tournament, and that same year a "Baseball in the New China" seminar was organized and hosted by the People's Liberation Army for the benefit of military and civilian teams.
Banned from 1966-76 during the "cultural revolution", the game was re-embraced in the early 1980s. In 1986, Los Angeles Dodgers owner Peter O'Malley helped finance China's first modern baseball stadium, in Tianjin, and two years later the first national Little League championship took place.
In 2001, MLB's international ownership committee agreed on a strategy for developing Chinese players, culminating in the formation of development centers in Wuxi, Changzhou and Nanjing for youngsters aged 12-18. The centers are attached to academically prominent middle schools.
"Before we started the development centers we discovered how much emphasis the Chinese place on education," said Jim Small of MLB International. "We knew the philosophy of the DCs had to be education first and baseball second or Chinese parents wouldn't let their sons attend."
murraygreig@chinadaily.com.cn