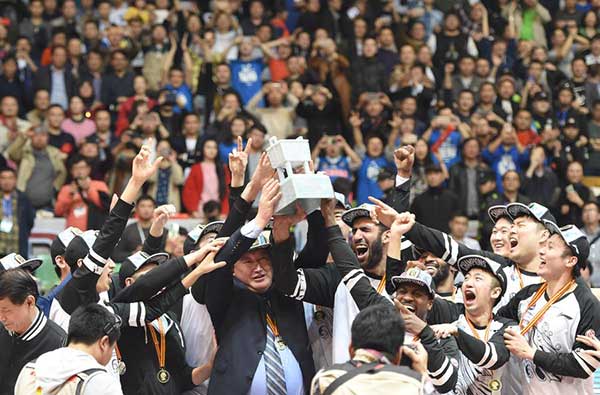 Members of the Sichuan team celebrate their first ever championship win in their third CBA season after Game 5 of the 2015-2016 CBA Finals against Liaoning in Chengdu, Sichuan province, March 20, 2016. [Photo/Xinhua]
CHENGDU, China - Sichuan beat Liaoning 94-91 in Game 5 of the 2015-2016 CBA Finals on Sunday and won the series 4-1 to become the fifth champions in CBA's 21-year history.
Sichuan recovered from an opening game loss to win four straight matches to claim their first ever championship in their only third CBA season. Only four clubs - Bayi, Guangdong, Shanghai and Beijing - had won the title earlier.
Sichuan, ranked 18th last season, improved from last year's 8-30 to 30-8 in this year's regular season after packing Hamed Haddadi, Mike Harris and Justin Dentmon from Qingdao, who reached last season's semifinals.
The three foreign players combined for 58 points. Harris led Sichuan with 25 points and 15 rebounds while Haddadi finished with a double-double of 22 and 16.
But it was Chinese players who secured the victory in Sunday's game. Wang Ruheng hit four three-pointers, including a crucial one in the fourth quarter right after Liaoning narrowed the gap to three. Zhang Chunjun had 12 points and seven rebounds.
"Three foreign players did help the team a lot during the entire season," said Sichuan head coach Yang Xuezeng. "But they are all team players. We won the championship because of team efforts."
Liaoning, who reached the CBA finals six times without winning one, almost brought the series back to Benxi. They trailed as many as 23 points in the middle of the third quarter but then Lester Hundson hit three straight three-pointers to close the gap to 10 before the final period.
Guo Ailun's layup with 1:17 left put Liaoning just two points behind Sichuan. Liaoning's Liu Zhixuan was fouled on a lay-up but he only managed one free throw. Then Hudson failed to tie the score in the last seconds.