RIO DE JANEIRO - Usain Bolt has confirmed he will retire after this year's Olympic Games in Rio de Janeiro despite calls to prolong his career.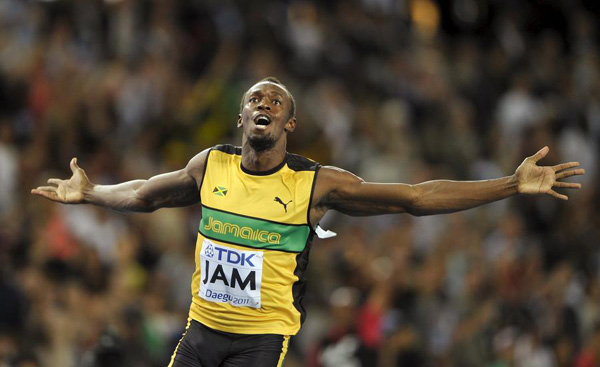 Usain Bolt of Jamaica celebrates winning the men's 4x100 metres relay final at the IAAF World Championships in Daegu in this file picture taken September 4, 2011. Six-times Olympic champion Bolt said he felt shocked and let down by the scandal-hit IAAF, but the Jamaican sprinter was against resetting athletics world records as the sport attempts to move on from the doping crisis. [Photo/Agencies]
The six-time Olympic gold medalist suggested in January that he could continue competing until the 2020 Games in Tokyo on the advice of his coach Glen Mills.
But the Jamaican said success in Rio would leave him with little reason to continue at the elite level.
"It'll definitely be my last Olympics," the 29-year-old told AFP on Monday. "It's going to be hard to go four more years for me, to keep the motivation that I want, especially if I accomplish what I want to in Rio.
"It's going to be hard to keep the motivation to go on for four more years so it'll definitely be my last one."
Bolt won golds in the 100m, 200m and 4x100m relay at the London 2012 Games in a repeat of his performances in Beijing four years earlier.
He is determined to extend his dominance in his three favorite events this August, with an extra focus on the 200m.
"My biggest dream at the Olympics is to win three gold medals again. That's my focus, that's what I want. And that's what I'm aiming for because that's my goal and that's my dream," Bolt said.
Despite holding the world record of 19.19 seconds for the 200m Bolt believes he has unfinished business in the event.
"I've said the only big thing, big time I want to run is the 200 metres," he said. "I'd love to try to go sub-19. That's the only thing I would really, really want because that's one of my goals.
"I've always talked about and always wanted it so for me, that's something I look forward to."