Lausanne - Michel Platini has made a formal appeal to the international sports tribunal against his six year ban from football amid a call from a top European federation leader for him to resign as UEFA president.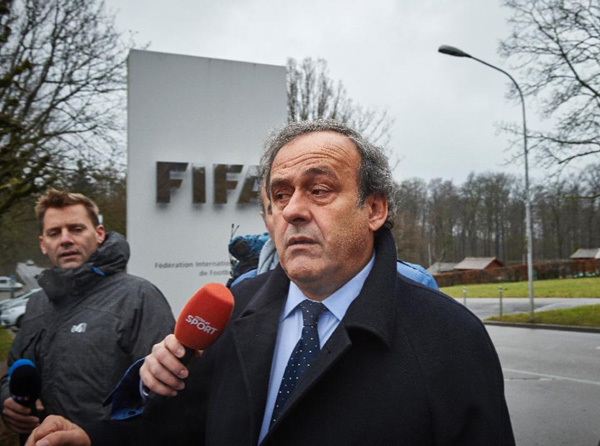 Michel Platini (pictured) and former FIFA leader Sepp Blatter were banned for six years each over a two million dollar payment made by FIFA to Platini.  [Photo/Agencies]
The Court of Arbitration for Sport said Wednesday that Platini has lodged an appeal which could be completed before the European Championships start in June. That would allow him to attend the event if successful.
But German Football Federation (DFB) Reinhad Rauball said Platini should stand down as UEFA chief because of the power vacuum in European football. Platini is suspended and general secretary Gianni Infantino became FIFA president on Friday.
Platini and former FIFA leader Sepp Blatter were banned for six years each over a two million dollar payment made by FIFA to Platini.
The ban against the two football powerbrokers was reduced from eight years by a FIFA appeal committee on February 24. But Platini, 60, has said he wants to fight the ban further.
Blatter has said he will also appeal but the tribunal said no documents had yet been received.
"In appealing to the CAS, Michel Platini seeks to annul the decisions taken by the adjudicatory chamber of the FIFA ethics committee and by the FIFA appeal committee which lead to him being declared ineligible to take part in football-related activity at national and international level for six years," said a CAS statement.
"First, the parties will exchange written submissions and a panel of three arbitrators will be constituted."
- Euro 2016 hopes -
The panel will consider a verdict after a hearing in Lausanne.
"In theory we have four months for a verdict, but Michel Platini has asked us for a decision before the start of Euro 2016 so we will adapt to the request of the parties," CAS secretary general Matthieu Reeb said.
Platini was a key figure behind staging the European Championships in his native country and is desperate to be present when it starts in Paris on June 10.
Platini and Blatter were found guilty of conflicts of interest when Blatter approved a two million Swiss franc ($2 million/1.8 million euro) payment to Platini in 2011 for consultancy work done without a contract a decade earlier.
He has denied any wrongdoing insisting there was an oral contract. Swiss prosecutors are investigating the payment however and Blatter, 79, is a formal suspect.
Platini had been favourite to take over from Blatter but the ban demolished his hopes.
Platini hopes to keep his post at UEFA if he can win his appeal. The Frenchman went to CAS in December when he appealled against his provisional suspension by FIFA. This was turned down.
And the German federation boss signalled unease in Europe at events at UEFA which organises the Champions League as well as Euro 2016.
"Currently, UEFA doesn't have a leader in either of the two most important positions: Platini is suspended and the former general secretary Gianni Infantino is now at FIFA," Rauball, the interim DFB chief, told Sport Bild magazine.
"In the summer, the European championships will take place and a lot of things need to be prepared and agreed.
"I think it is urgent that there is a discussion about an alternative (president) in terms of the congress in May.
"One has to distinguish between the personal interests of Platini and the capacity to function of UEFA, which is a venture worth billions."
UEFA is to hold a congress in Budapest on May 3.