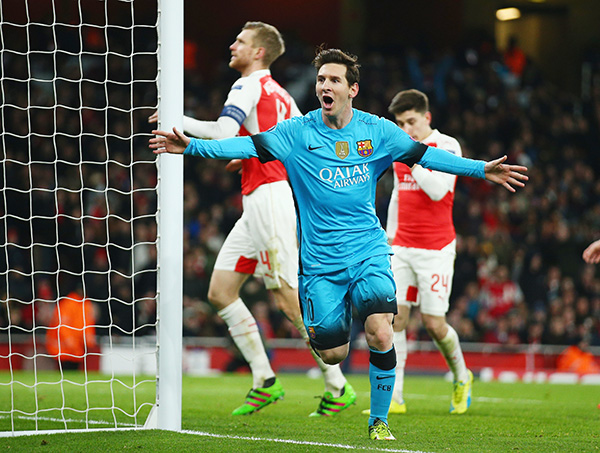 Lionel Messi of Barcelona celebrates scoring the opening goal during the UEFA Champions League round of 16 first leg match between Arsenal and Barcelona on February 23, 2016 in London. [Photo/Agencies]
LONDON - Arsenal seemed to have heeded the painful lessons that have blighted their recent Champions League campaigns when the score was 0-0 against Barcelona with 20 minutes left on Tuesday.
Then, the old frailties returned and Lionel Messi's classy late double gave the visitors a 2-0 win that should make the return game in the last 16 tie at the Nou Camp a formality.
For the past three seasons Arsene Wenger's side have exited at the same stage, having imploded in the opening home leg.
Last year AS Monaco made off with a 3-1 victory and Bayern Munich left London with healthy leads in the two prior seasons.
Each time Arsenal responded with valiant, if ultimately in vain, away performances but, according to Wenger, this time the battle is already 95 percent lost.
Most frustrating for the Frenchman was that holders Barca, now unbeaten in 33 matches, had been relatively well-contained for three quarters of an absorbing tie as Arsenal resisted their own usual attacking instincts in a cagey display.
There had been let-offs, notably when Luis Suarez missed a sitter before halftime, but Arsenal were starting to look as if they could sneak a priceless lead when the wheels came off.
First they were undone by a classic Neymar-Suarez-Messi counter-attack and then substitute Mathieu Flamini rashly conceded a penalty 47 seconds after coming on, leaving a frustrated Wenger to accuse his players of naivety.
BIGGEST REGRET
"I felt there was room to beat them tonight, that is the biggest regret I have," he told reporters.
"We felt we could win it and lost our cautiousness to defend. Especially as we knew it was vital not to give them a counter-attack which is when they are most dangerous."
Arsenal's tactics were spot in the opening half with Barcelona failing to land a telling blow.
The hosts also wasted a glorious chance when Alex Oxlade-Chamberlain shot straight at goalkeeper Marc-Andre ter Stegen and Olivier Giroud fluffed a close-range header.
A goalless draw would have given Arsenal a chance of knocking out the European champions next month, but Wenger's side were punished for abandoning their containing gameplan.
"We lost at the moment when we looked more capable to win it," said Wenger, whose side have fallen at the last 16 stage for five years in a row.
"It's a bit disappointing to give them a goal like we did the first one, I feel we are extremely guilty and have no excuse for that goal."
"We had been disciplined defensively and we knew if we had to keep it 0-0 that was what we had to do," he added.
"They are better than us, everybody knows that, but I feel we could have won the game tonight if we had kept the discipline until the end."