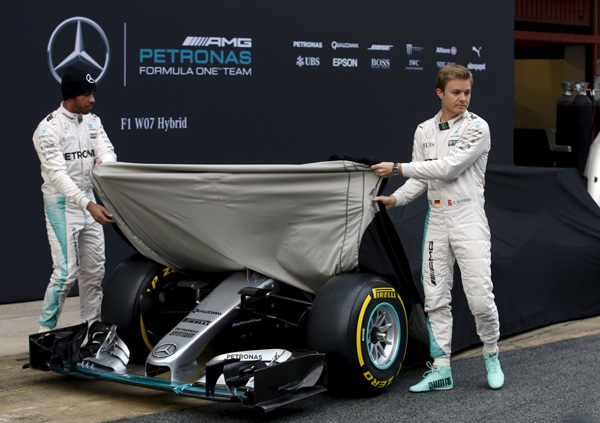 Mercedes Formula One drivers Lewis Hamilton of Britain (L) and Nico Rosberg of Germany unveil the new Mercedes F1 W07 hybrid car before the first testing session ahead of the upcoming season at the Circuit Catalunya-Barcelona in Montmelo, Spain, February 22, 2016.  [Photo/Agencies]
Barcelona - A refreshed Lewis Hamilton insists he is prepared for the most gruelling Formula One season of his life as he attempts to deliver a third consecutive world championship for Mercedes.
The Englishman romped to the third world title of his career last season with three races to spare to see off teammate Nico Rosberg.
However, having enjoyed his time off during the winter, Hamilton is eager for more in Formula One's longest-ever 21 race schedule in 2016.
"The highlight of the winter break has been the break! No racing - just family, friends and snowboarding", he said as Mercedes launched the W07 Hybrid on the first morning of pre-season testing in Barcelona on Tuesday.
"I love racing, so I always welcome more races, but it's going to be a gruelling season with 21 rounds."
If Hamilton was in need of any motivation, he was beaten into second place by Rosberg for the final three races of last season after sealing the title and expects an even tougher test from the German this year.
"Nico is going to be super quick and super strong, so I've got to make sure I raise the bar again," added Hamilton.
"I've achieved it in each of the last two years -- but to do it again for a third time will be tough, no doubt. That's the unknown -- but I've been in the simulator recently and thankfully I can still drive, so that's a start!"
Hamilton and Rosberg's relationship has been far from friendly in their three seasons as teammates with numerous clashes on and off the track.
And Rosberg is determined that he will finally outperform Hamilton to deliver his first world title.
"I've had the car to help me realise that dream twice now but haven't quite been able to bring everything together," he said.
"I'm looking for that key to unlocking the final step to the title all the time and I will fight for it again this year. The opposition will be strong, of course. Lewis is doing a great job and we need to keep an eye on Ferrari as well."
Mercedes rivalry
The man tasked with keeping the peace between Hamilton and Rosberg is Mercedes chief Toto Wolff.
Yet, he insisted they will be left to fight it out on the track free from team orders.
"The battle between Lewis and Nico is both interesting and challenging for us", he said.
"If you put two competitive drivers in the same team and they have a shot at the championship, it's never going to be an easy ride.
"Not only do we accept that, we embrace it."
Mercedes have won 32 of the 38 races in the past two seasons leading many, including four-time world champion Sebastian Vettel, to claim the sport has become predictable and boring for spectators.
Yet, Vettel and Ferrari are expected to pose a stronger challenge this season and Wolff has no intention of loosening the German giants' grip on the rest of the paddock.
"After the success of the past two seasons, the obvious target is to build on what we have achieved so far - to continue to win races and championships."