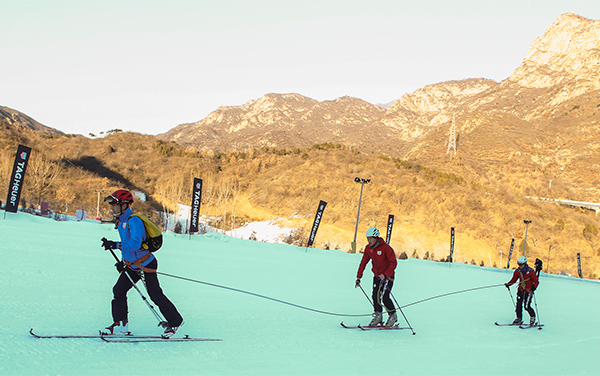 A three-member Chinese ski mountaineering team train at Huaibei Ski Resort in Beijing, Jan 7, 2016. [Photo provided to chinadaily.com.cn]
Imagine how tough it could be to navigate through snow-covered alpine terrains by skiing in extreme coldness and thin air, not to mention the time pressure.
If there's one thing mountain skiers are obsessed with, it's conquering the Patrouille des Glaciers (PDG), a biennial ski mountaineering race held in mountain areas around Southwestern Swiss village Verbier.
Having attracted thousands of military and civilian portal teams worldwide since 1943, the 2016 edition of the race will for the first time in its 73-year history welcome a three-strong contingent from China to join the challenging expedition.
The Chinese Mountaineering Association selected three experienced athletes, Zhang Yaohua, Kang Hua and Jin Yubo, and a Swiss coach Florent Troillet to train one week ahead of the April event, which is funded by Swiss watchmaker Tag Heuer.

"We very much appreciate the valuable opportunity to race against the world's top portal teams in Europe. The race has a reputation for their difficult long courses on high altitude, which will help our athletes improve in many aspects," said CMA official Li Wenmao at the announcing ceremony at Beijing's Huaibei Ski Resort on Thursday.
Troillet is a veteran mountain skier and a member of the winning team at the 2010 race. He said he can't wait to return the foothill of Swiss Alps together with the Chinese team.
"I am very excited to embrace the new role as coach of the Chinese team. I will offer all my knowledge and experience to help them," Troillet said.
This year, the Chinese team will start in the shorter course of the race, a 27-kilometer route from mountain village Arolla to Verbier over a peak altitude of more than 3,000 meters, in an inhospitable rugged environment.
Pierre-Andre Gremaud, director at Verbier Promotion, believes mountain skiing fashion in Switzerland will gain its hold in China given that Beijing will host the 2022 Winter Olympics.
"Ski mountaineering is the identity of Verbier. We would like to bring that lifestyle to China. I believe the government in China will invest in the Olympics and winter sports in general. We think there will be a big opportunity for us to welcome tourists from China," Gremaud said.
Beijing and Zhangjiakou won the rights to stage the 2022 Winter Olympics last July.
While it's not yet recognized as an Olympic sport, the ski mountaineering world governing body is in discussion with the International Olympic Committee for a future spot in the Winter Olympics program.
Fabrice Favero, an official of the promoting body of the PDG race, said the Swiss are more than happy to offer their expertise to China for skiing events operation.
"Ski is a big generator for the Swiss industry. We have a lot of knowledge on how to do it in a professional way. I think we can also give a lot of competences to the Chinese sport industry on the key things by sharing the experience," said Favero.