Ken Griffey Jr. was elected to the Baseball Hall of Fame with the highest voting percentage in history on Wednesday.
A star slugger of the steroids era never tainted by accusations of drug use, Griffey was on 437 of 440 votes in his first appearance on the Baseball Writers' Association of America ballot. His 99.3 percentage topped the previous mark of 98.84, set when Tom Seaver appeared on 425 of 430 ballots in 1992.
Griffey was known simply as 'Junior' by many as a contrast to his father, three-time All-Star outfielder Ken Griffey, who played alongside him in Seattle during 1990 and '91. The younger Griffey became a 13-time All-Star outfielder and finished with 630 homers, which is sixth on the career list.
"Happy and shocked that I get to be in such an elite club," he told MLB Network.
"In case you don't know, I'm really superstitious. I've played in the Hall of Fame game three times and I've never set foot in the building. I've never even seen the front of it. The one time I wanted to go in there, I wanted to be a member."
After falling 28 votes shy last year, Piazza received 365 in his fourth time on the ballot and will be inducted along with Griffey on July 24.
"Incredibly special. Wow!" Piazza said on a call with MLB Network. "I sat here with my mouth on the floor."
A player needs 75 percent to gain election. Jeff Bagwell missed by 15 votes and Tim Raines by 23. Trevor Hoffman, on the ballot for the first time, was 34 short.
The vote total dropped by 109 from last year because writers who have not been active for 10 years lost their votes under new rules.
There were significant increases for a pair of stars accused of steroids use. Seven-time Cy Young Award winner Roger Clemens rose to 45 percent, and Barry Bonds, the only seven-time MVP, to 44 percent, both up from about 37 percent last year.
Mark McGwire, who admitted using steroids, received 12 percent in his 10th and final ballot appearance.
Half of Major League Baseball's top 10 home run hitters are not in the Hall: Bonds (762), Alex Rodriguez (654), Jim Thome (612), Sammy Sosa (609), and McGwire (583). Rodriguez, who served a yearlong drug suspension in 2014, remains active. Thome's first appearance on the ballot will be in 2018.
Curt Schilling rose from 39 percent to 52, Edgar Martinez from 27 percent to 43 and Mike Mussina from 25 percent to 43.
While Griffey was selected first in the 1987 amateur draft and became the first No 1 to make the Hall, Piazza was selected by the Los Angeles Dodgers with the 1,390th pick in the 62nd round in 1998. He is the lowest pick to make the Hall since the draft started in 1965.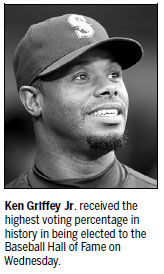 (China Daily 01/08/2016 page23)