GENEVA - FIFA's independent ethics committee on Tuesday said its investigatory chamber proposed a nine-year ban on currently suspended FIFA secretary general Jerome Valcke due to several alleged violations of FIFA's ethics code.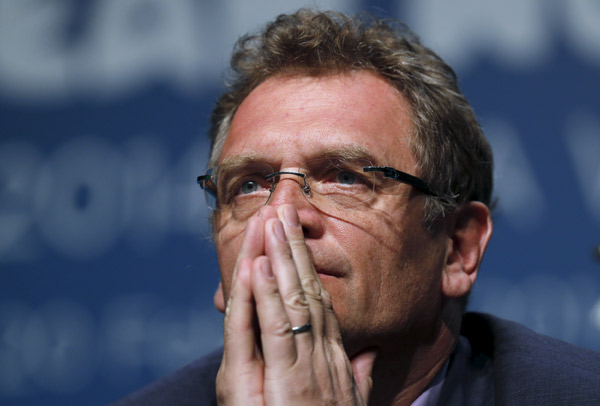 FIFA General Secretary Jerome Valcke listens to a question during an announcement on the status of Curitiba as a host city for the 2014 World Cup, in Florianopolis, Santa Catarina state, in this February 18, 2014 file photo. [Photo/Agencies]
According to a statement from the organization's ethics committee, the investigatory chamber has concluded the investigation into the activities of Valcke and handed over the report together with recommendations to the adjudicatory chamber of the ethics committee.
In a final report, the investigatory chamber recommended imposing a sanction of a nine-year ban and a fine of 100,000 Swiss francs (98,822 U.S. dollars) on Valcke for alleged violation of FIFA's general rules of conduct, loyalty, confidentiality, duty of disclosure, cooperation and reporting, conflicts of interest, offering and accepting gifts and other benefits.
The investigatory chamber first requested an extension of the currently suspension of Valcke from all football-related activities for a further 45 days.
On Oct. 7, FIFA imposed a 90-day ban on the 55-year-old FIFA official, which was supposed to end on Tuesday midnight.
The ethics committee said, however, that until a formal decision is taken by the adjudicatory chamber, Valcke is presumed innocent. Valcke had already been put on leave over allegations concerning the sale of World Cup tickets since the provisional ban.
Last month, the adjudicatory chamber banned Joseph S. Blatter, president of FIFA, for eight years and Michel Platini, FIFA's vice-president, for eight years from all football-related activities (administrative, sports or any other) on a national and international level.