DUBAI -- Italian national football player Andrea Pirlo said here on Monday he does not feel disturbed by rumours he eyes a loan switch to Inter Milan.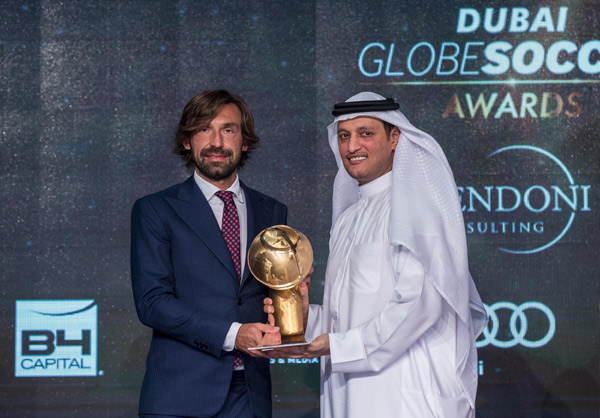 Italian footballer Andrea Pirlo (L) receives the "Best Career" award during the Globe Soccer Awards Ceremony at Dubai International Sports Conference, in Dubai December 27, 2015.  [Photo/Agencies]
Pirlo said he focuses on his current club New York City FC and on his goal to play the UEFA Euro 2016 with Italy.
The 36-year-old free-kick specialist spoke at the 10th edition of the annual Dubai Sports Council conference.
Pirlo, who played for Inter from 1998 to 2001 and for AC Milan from 2001 to 2011, said, "I am used to hear rumours about my person. I feel not disturbed by them. I could go to Milan again. I have taken as a compliment."
However, the midfielder explained that he would like to fulfill his contract with New York City FC "where I am still playing on the highest level".
His second objective on the national level is to convince Italy's national coach Antonio Conte that he is capable of playing the 2016 UEFA European Championship which will take place from June 10 to July 10 in France.
Conte, 46, was head coach at Juventus from 2011 to 2014 which marked the first three years when Pirlo played for "The Old Lady" before he switched in 2015 to America.
With "Juve", the two won three consecutive Serie A titles and the Supercoppa Italiana in 2012 and 2013.
"My bonds with Antonio remain strong, we achieved great success together. We have regular contact even although I am now in the United States. This personal tie will remain forever," said the playmaker.
The Lombardy-born pro has been performing 116 matches so far for the "Squadra Azzurra" (nickname for Italy's national team) which he joined in 2002.
He refuted rumours that he was forced to leave the squad in Turin, saying he did so voluntarily. "I was disappointed that such speculations came up at that time."
On Sunday, Pirlo received the First Player Career Award at the annual Globe Soccer Awards in Dubai.