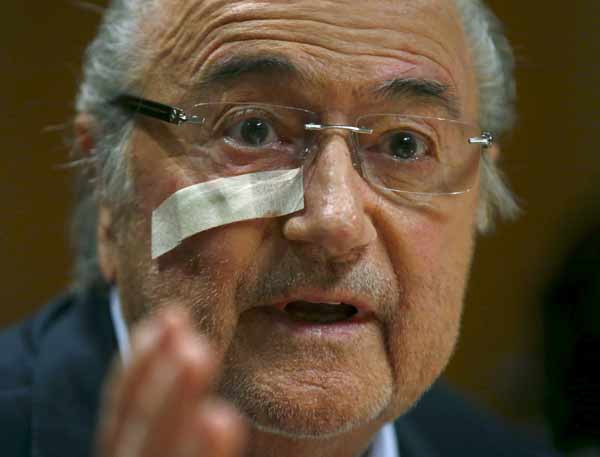 FIFA's suspended president Sepp Blatter holds a news conference in Zurich, Switzerland, December 21, 2015.  [Photo/Agencies]
ZURICH - Shaken by corruption scandals, global soccer body FIFA on Wednesday presented the detailed reforms it will ask members to adopt in February at a special congress that seeks to restore its reputation and elect a new leader.
The reforms include limiting the number of terms top officials can serve, following the banning for eight years of Sepp Blatter, who had been FIFA president for 17 years. His reign ended in the worst graft scandal of the body's history.
The amendments also seek to put a tighter rein on FIFA's 209 member associations and separate policy and management positions, with a 36-member FIFA council replacing the 25-member executive committee..
"This is a landmark occasion in the history of FIFA, and it comes at a crucial time as we focus on the hard work of restoring credibility and stability," acting FIFA President Issa Hayatou said in remarks prepared for a Feb. 26 congress in Zurich.
"I hope that all of the confederations and our member associations will fully embrace these reforms. This will demonstrate to the world that we have listened and learned from recent events and are taking the necessary steps."
FOSTERING A POSITIVE IMAGE
FIFA is in the throes of criminal investigations in the United States and Switzerland.
Its ethics committee this week banned Blatter and UEFA boss Michel Platini, long expected to succeed him in the job, for eight years for ethics violations. Both deny any wrongdoing.
Soccer bosses from across South and Central America were among the latest 16 people charged this month by the United States with multi-million-dollar bribery schemes for marketing and broadcast rights, bringing the number of indictments so far to 41 in an investigation spanning dozens of countries.
The draft statute amendments released on Wednesday take responsibility for good conduct right to the top.
"The President shall aim to foster a positive image of FIFA and to ensure that FIFA's mission, strategic direction, policies and values, as defined by the Council, are protected and advanced," one amendment reads.
It set a similar high bar for Council members, which now must "faithfully, loyally and independently act in the best interests of FIFA and the promotion and development of football at global level."
In future, each member association would be responsible "for any and all acts of the members of their bodies caused by the gross negligence or wilful misconduct of such members".
One new statute stipulates that the congress may suspend a member solely at the request of the Council. This appeared to be an attempt to avoid an incident last year, when the Palestine football association proposed the suspension of the Israeli FA.
This sparked fears of similar situations should FAs seek to kick out political enemies.