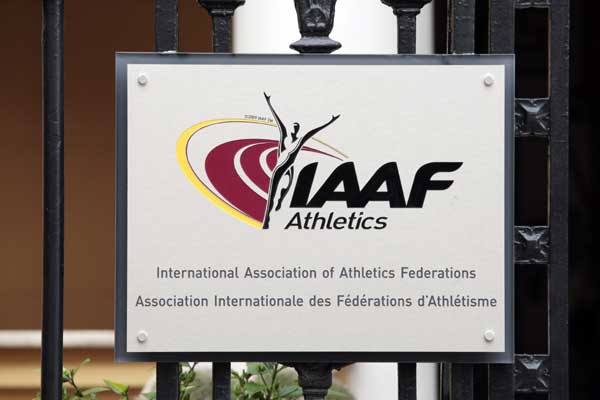 A view shows a plaque at the IAAF (The International Association of Athletics Federations) headquarters in Monaco November 4, 2015. [Photo/Agencies]
LONDON - Nick Davies, a leading official at the world athletics federation (IAAF), said on Tuesday he would step aside while an ethics committee investigated emails he had sent regarding Russian doping ahead of the 2013 world championships in Moscow.
On Monday, the French newspaper Le Monde published an email sent by the Briton to Papa Massata Diack, a former IAAF marketing consultant and the son of former IAAF president Lamine Diack, that discussed developing a media strategy to limit the news impact of a series of positive tests by Russian athletes.
Davies was the IAAF's director of communications at the time, but is now director of IAAF President Sebastian Coe's office.
"What has become apparent today is that I have become the story," Davies said in a statement distributed by the IAAF, adding that he was stepping aside pending a ruling on his conduct by the IAAF Ethics Board.
He said he had voluntarily offered full assistance to the board as well as French police and the World Anti-Doping Agency.
"I have referred my emails to Papa Diack in 2013, my statements and the circumstances of the emails to the IAAF Ethics Board," Davies added.
Both Diacks are under investigation by the IAAF and French police on suspicion of corruption relating to the concealment of positive dope tests. At the same time, Russian athletes are currently banned from the sport following revelations of widespread, state-sponsored doping.
The email cited by Le Monde, which Davies was said to have described as "very secret", said: "I need to be able to sit down with the anti-doping department and understand exactly what Russian 'skeletons' we have still in the cupboard regarding doping.