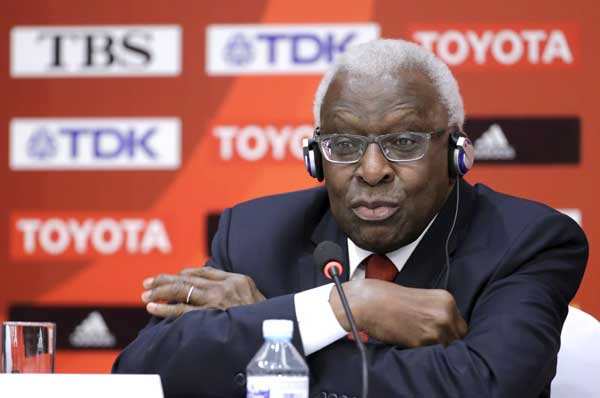 Then-outgoing President of the International Association of Athletics Federations (IAAF) Lamine Diack attends a news conference in Beijing in this August 20, 2015 file photo. [Photo/Agencies]
LONDON - The International Association of Athletics Federations (IAAF) was again forced to defend its actions over Russian doping on Monday after a leaked email showed how officials planned a damage-limitation strategy before the 2013 Moscow world championships.
The email suggesting a "special dossier" on Russian drugs cheats was from IAAF deputy general secretary Nick Davies to Papa Massata Diack, the son of former president Lamine Diack, who then worked for the sport's governing body as a marketing consultant.
Both Diacks are under investigation over corruption offences, while Russian athletes are currently banned from the sport following revelations of widespread, state-sponsored doping.
The report also criticised the governing body for its "laissez-faire" attitude to the problem. Though the extent of Russian doping is now out in the open, the IAAF were seemingly fighting to keep a lid on it two years ago.
Extracts from the "very secret" email published by French newspaper Le Monde, but not verified by Reuters, said: "I need to be able to sit down with the anti-doping department and understand exactly what Russian 'skeletons' we have still in the cupboard regarding doping."
"I think that the time to have unveiled the various athletes was a long time ago and that now we need to be smart."
"We can prepare a special dossier on IAAF testing which will show that one of the reasons why these Russian athletes come up positive is that they get tested a lot."