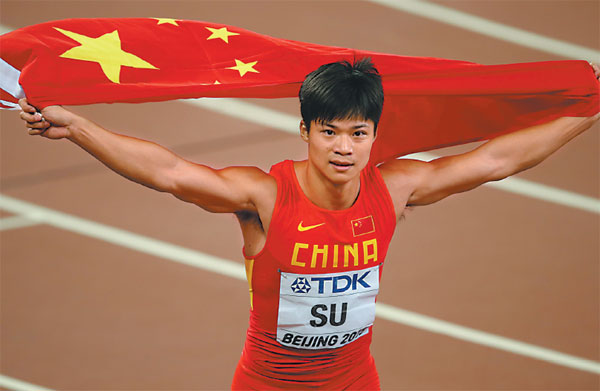 Chinese sprinter Su Bingtian embraces the national flag after finishing ninth in the men's 100m final at the world championships on Sunday. Xu Jingxing / China Daily
BEIJING -- After decades of excruciating wait, the most populous country in the world finally got a guy who can dip under the 10-second barrier in 100m sprint in 2015. Su Bingtian, a 26-year-old Cantonese, clocked 9.99s twice in the year to establish himself as the fastest man in China.
The 1.71m-tall sprinter dashed to a career best of 9.99s to finish third behind American Tyson Gay and Mike Rodgers at the 2015 IAAF Diamond League Eugene meet on May 30, beating the national record of 10.00s set by Zhang Peimeng at 2013 World Championships in Moscow.
"I am so proud for my result. I can write my name into history now and will work harder and run faster," said Su, who has became the first Asian-born to officially beat the 10s barrier although Qatar's Nigerian-born Femi Ogunode owns the continent record with his winning mark of 9.93s in last year's Asian Games.
Three months later at the 2015 World Championships in Beijing, Su proved his success in Eugene was no fluke as he clocked 9.99s again to become the first Chinese to reach the men's 100m final in the worlds.
"Su's result did not come all of a sudden," said his coach Yuan Guoqiang, China's first national record holder in digital-timing era with a PB of 10.52s.
In the eyes of Yuan, Su's achievement came after years of hard work. But a revolutionary technique change turned out to be the immediate cause of his breakthrough.