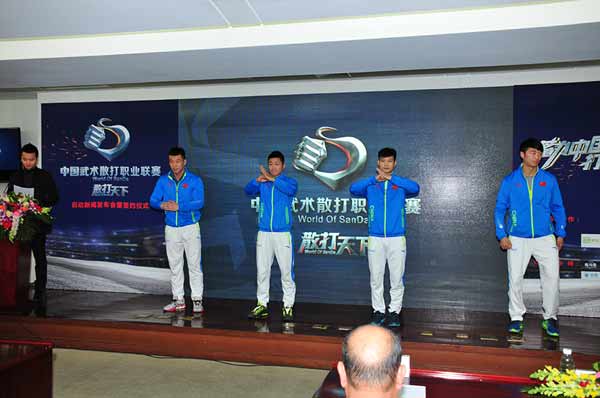 Representatives of Chinese Sanda fighters participate Wednesday's news conference. [Photo provided for chinadaily.com.cn]
One-to-one unarmed combat Wushu Sanda will turn professional next year as the nation's Wushu sport administrator announced the first professional league will be unveiled in January in Beijing on Wednesday.
"World of Sanda", China's Wushu Sanda Pro League, will select the nation's top professional Sanda fighters from the 1,700 registered fighters nationwide, including Asian or national championship winners and runners-up.
According to the organizers, the league's first season will have six weight classes and fixtures include openers in January, qualifier, knock-outs, point game and finals at year end.
Sanda is a one-to-one unarmed combat based on techniques from traditional Chinese martial arts offensive actions like kick and tumble.
The league will allow no protective gear and introduce knee offensive to make the fight more eye-catching.
Though China is the birthplace of Wushu Sanda, it has a small population of Sanda lovers. "The reason why we have opened the league is to revive the traditional Chinese martial arts…through marketing and experience from China's basketball league and football league, we are aiming to create more Chinese professional fighters," said Zhang Qiuping, head of the martial arts administration of the country's sports ministry.
"I think the league will help sharpen our techniques and attract more Sanda lovers nationwide. This has been my dream for the past 10 years that I have been involved in Sanda, said Yang Yuanfei, winner of 85kg class of 2015 National Sanda Championships.