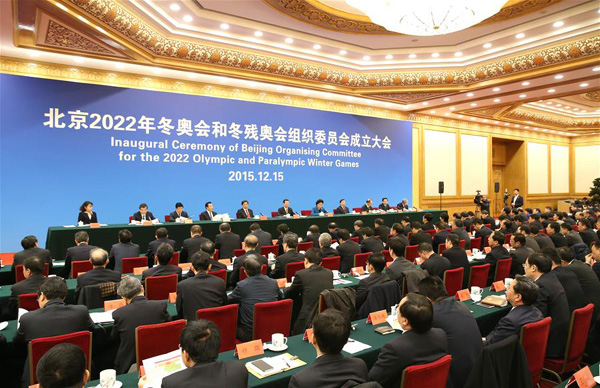 Chinese Vice Premier Zhang Gaoli attends the inaugural ceremony of Beijing Organizing Committee for the 2022 Olympic and Paralympic Winter Games in Beijing, capital of China, Dec 15, 2015. [Photo/Xinhua]
BEIJING - Seven years after hosting the Summer Olympics, the Chinese capital launched the Beijing Organizing Committee for the 2022 Olympic and Paralympic Winter Games (Beijing 2022), promising a "fantastic, extraordinary and excellent" Games.
Chinese Vice Premier Zhang Gaoli addressed the launch ceremony at the Great Hall of the People on Tuesday, saying that "to host a successful Winter Games is China's solemn commitment to the Olympic Family", as well as "an important move to push for the coordinated development" of Beijing and neighboring cities.
China aims to create a new economic belt and environment-friendly zone, incorporating the surrounding Hebei Province, and Tianjin, a port city to the capital's southeast.
Zhang, a member of the Standing Committee of the Political Bureau of the Communist Party of China (CPC) Central Committee, said that Chinese leaders attached great importance to the preparation for the Games.
Chinese President Xi Jinping has urged the organizers to "work harder to host a fantastic, extraordinary and excellent Games".
Xi stressed a "green" Olympics and called for a heightened level of city management, broader appeal of winter sports in China, stricter budget control and strengthened supervision.
The International Olympic Committee (IOC) awarded the 2022 Olympics on July 31 to Beijing, the host to the 2008 Summer Games.
Beijing 2022 President Guo Jinlong said the organizers will study the Host City Contract (HCC) and Olympic Agenda 2020 before they map out a detailed task agenda.
"We will pore over the HCC and the Olympic Agenda 2020, and review our bid commitments before we work out the roadmap and timetable," Guo said.
"We shall ensure every task is accomplished," he added.
Guo reiterated that preparation for the Olympics and the Paralympics would be treated equally.
IOC President Thomas Bach sent a congratulatory letter to the organizing committee, saying "Beijing is making history as the first city in the world to host both the Olympic Summer Games and Olympic Winter Games".
"The milestone is the first step on our six-year journey together to deliver brilliant Olympic Winter Games in 2022 for Beijing, for China and for the world," Bach said in the letter, which was read out by IOC Vice President Yu Zaiqing at the ceremony.