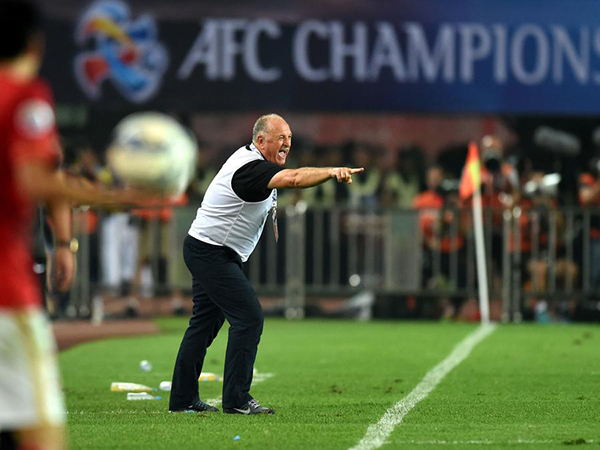 Brazilian head coach Luiz Felipe Scolari of China's Guangzhou Evergrande directs his players during the second round of match against UAE's Al Ahli in their AFC Champions League final, Nov 21, 2015. [Photo/Xinhua]
OSAKA, Japan - Brazilian manager Luiz Felipe Scolari has high hopes for Guangzhou Evergrande at the Club World Cup, saying the Chinese champions have the potential to exceed their fourth-place finish in the tournament two years ago.
Guangzhou begins its campaign on Sunday against Mexican club America.
A victory over the CONCACAF champions would set up a semifinal with Barcelona at Yokohama International Stadium where Scolari guided Brazil to a World Cup victory over Germany in 2002.
"I'm well aware that it will be difficult, but after winning the Chinese Super League and the AFC Champions League, we can be optimistic," Scolari said on Saturday. "I know that we can get past the first hurdle."
Under Marcello Lippi, Guangzhou finished fourth in the Club World Cup in Morocco in 2013.
Since Scolari took over from Fabio Cannavaro in June, Guangzhou has won 18 and drawn five of their 23 games in both domestic and continental competition.
"Guangzhou should finish higher than we did last time around," said Scolari. "This is our target. We're going to give everything we have in the competition, beginning with the meeting against our Mexican opponents on Sunday."
Guangzhou midfielder Huang Bowen says the team is stronger at the back under the former defender.
"We are a more balanced side," Bowen said. "Under Lippi we were very much an attack-minded team, but Scolari has transformed us into a much more all-round team, capable of attacking and defending well."
Making the transition easier for Scolari is the fact that Guangzhou has five Brazilian players.
Former Tottenham player Paulinho is the leader of the team's midfield and along with Elkeson, and Ricardo Goulart played a major role in Evergrande's Asian Champions League title run.
The Chinese champions will also be boosted by the presence of Robinho and Alan, who were both excluded from the AFC Champions League squad due to restrictions on the number of overseas players.
As big a role as his Brazilian stars have played, Scolari gives full credit to his domestic players.
"Our Chinese players are good and several of them would be able to play in European leagues," Scolari said.