Kudos to China's winter sports authority for swiftly handing down the kind of justice that should serve as a blueprint for the weak-kneed North American millionaires club known as the National Hockey League.
Last week, during a China Hockey League game between Qiqihar and Chengde in Harbin, Heilongjiang province, Qiqihar forward and former China national team player Lang Bingyu sent Chengde's Huang Peng sprawling to the ice from a vicious elbow to the head, then used his stick to spear Huang in the face, knocking out three teeth and inflicting a deep, bloody gash.
Huang, captain of China's U-20 squad and one of the nation's most gifted young players, was hospitalized after taking 42 stitches to close the wound.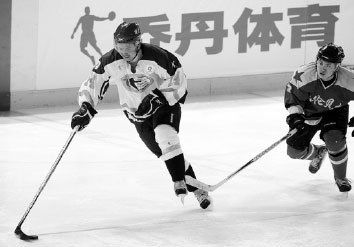 Lang Bingyu (left), shown here at the 2012 National Winter Games, has been banned for life by the China Ice Hockey Association for a vicious attack on Chengde's Huang Peng last week. Sha Dati / Xinhua
Within 24 hours, the China Winter Sports Center announced the 34-year-old Lang, who notched 15 points in 35 international games, had been banned for life from any games or practices administered by the China Hockey Association. As well, Qiqihar coach Liu Wen, cited for not being in control of his player, was suspended for one year and disqualified from applying for any position with the national team.
"This is the severest penalty ever in Chinese hockey," Wang Zhili, deputy director of the China Winter Sports Center, told Xinhua. "But for such a flagrant injury incident, it crossed the bottom line of our tolerance. If you play a sports match you should behave like a sportsman, not like a villain."
In other words, the punishment should fit the crime-a concept the NHL is struggling to grasp. The difference is that the world's top pro league where 690 players earn an average salary of $2.75 million for an 82-game season-has always had its own brand of frontier justice: fighting.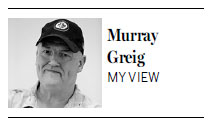 In China's fledgling pro loop, where players are paid little more than beer money, fighting is prohibited-and it should be, as long as the regulating authorities continue to deliver appropriate punishment for flagrant stick fouls and deliberate attempts to injure.
But the NHL is a different animal.
Pro hockey at its highest level is-by far-the world's fastest team sport. With its constant collisions and inherent violence, players are always on edge.
When the NHL was launched in Canada in 1917, its founders recognized that fighting is a built-in safety valve. Having players throw down their gloves and punch each other in the face is infinitely preferable to using their sticks to hack and slash-and until relatively recently, that was the status quo.
But over the past 20 years, largely because of improved equipment and the introduction of a murky "instigator rule" that empowers referees to banish any one who starts a fight, the NHL has changed dramatically. Instead of manning up and throwing punches when they have a score to settle, more and more players are resorting to cowardly hits from behind, targeted spearing or blindside blows to the head-all of which are far more dangerous. With more emphasis on skill, the need for teams to employ "bodyguards" for star players has all but disappeared-but that doesn't mean fighting should be purged from the game.
In his best-selling autobiography published last year, Hall of Fame defenseman Bobby Orr-for my money the greatest player in the history of the game-wrote: "Pro hockey can be cruel to those who choose fists over skill, and it is the toughest way to earn a living on the ice. But the more I look at the current state of the game, the more I realize a simple truth: the threat of a fight, or the fear of doing something that will trigger physical retaliation, is a very powerful deterrent in a hockey game. Fighting is part of hockey. It always has been, and it always will be."
Instead of trying to tame the game by eliminating fighting, the NHL should take a cue from the China Winter Sports Center and start meting out meaningful punishment for deliberate attempts to injure. Fining millionaires and issuing token suspensions means nothing-but handing a lifetime ban to those who wield their sticks like oversized scalpels sends a powerful message about the cost of crossing the line.
Just ask Lang Bingyu.
Murray Greig is a Canadian author and former hockey player and coach. Contact him at: murraygreig@chinadaily.com.cn
(China Daily 12/09/2015 page23)