Sir Alex offers sage advice to Chelsea boss
Sir Alex Ferguson warned Jose Mourinho on Monday that soccer is a high-risk industry, but backed him to find a solution at misfiring Chelsea.
Speaking at an event in London, Ferguson suggested Mourinho was a good leader, but one struggling to come to grips with his first period of non-success, including a home defeat to promoted Bournemouth last weekend, the team's eighth loss in 15 Premier League games.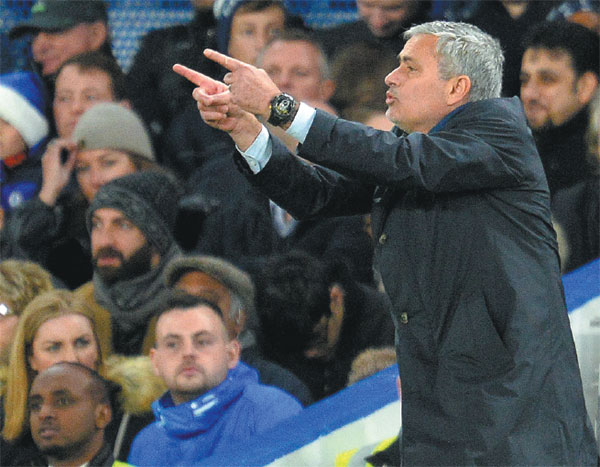 Jose Mourinho gestures during Chelsea's 1-0 loss to Bournemouth at Stamford Bridge in London last Saturday. Glyn Kirk / Agence France-Presse
"If you look at his whole career there has been nothing but a rise all of the time so for the first time in his life he has had to deal with bad publicity, adversity and that is a challenge for him," Ferguson said.
"I watched the match on Saturday and they could have won by a few goals, but they lost," said Ferguson, who enjoyed great success during his 27-year spell as Manchester United manager.
"Football today is such a big financial industry, the television deal is (worth) billions, there is the press involvement, there is pressure from their own fans; it is a very high-risk industry today," said the Scot.
"The sort of average time a manager lasts now is a year throughout the whole country and that is not a big time."
Three Premier League sides, Liverpool, Aston Villa and Sunderland, have all changed managers so far this season and while Mourinho signed a new four-year deal in August, Chelsea owner Roman Abramovich is notoriously impatient with his managers.
Ferguson, however, feels Mourinho can dig deep and turn Chelsea's fortunes around despite its dreadful form.
"For Jose, I think all good leaders will eventually find a solution. I think he will, I think he will find a solution and I think you will get back to normal which is not looking great at the moment," he said.
"But I know the guy and I know the work he has done in football and I can't see it lasting long, I can't see it."
Chelsea faces Mourinho's former club Porto at home on Wednesday for its final Champions League Group G tie.
With Dynamo Kiev expected to beat Maccabi Tel Aviv, a victory would see Chelsea advance as group winner while a draw guarantees it second.
Defeat, though, would see the Blues fall into the Europa League.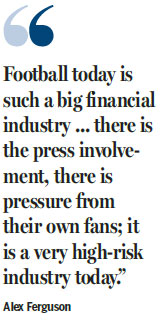 Mourinho was given a public vote of confidence by Chelsea at the start of October, but Abramovich's patience is wearing thin as the club's worst start to a season in his 12-year ownership shows no signs of improving.
Although Mourinho has continued to insist he retains the support of his players amid rumors of a dressing room mutiny against his hard-line style, the limp manner of their surrender against Bournemouth suggested otherwise.
Some TV pundits have pointed to the Blues' lackluster body language as a sign they have given up on playing for Mourinho.
Abramovich held talks with his closest Chelsea aides, Marina Granovskaia and Michael Emenalo, over the weekend and it is reported the Russian told Mourinho he must lead the team into the last 16 of the Champions League in order to avoid the axe.
It would be the ultimate irony if the Portuguese club where Mourinho made his name by winning the 2004 Champions League delivers the final blow that spells the end of his second tenure with Chelsea.
And after so many unexpected setbacks this season, Mourinho admits he can take nothing for granted against Porto.
"It's a knockout game," Mourinho told Chelsea TV. "It's a group phase where normally you're still playing for points.
"But the reality is that it's a knockout. Chelsea or Porto, one will be out. For sure, it's a big game."
Ferguson also said he was "worried" that Juergen Klopp's move to Liverpool would elevate the Reds above Manchester United.
The last of Liverpool's 18 English league titles came back in 1990 but, after hiring Klopp in October and losing just two of its 12 games since, Ferguson is confident the former Borussia Dortmund boss will transform the Anfield outfit's fortunes.
"I'm worried about him because one thing United don't want is Liverpool to be above us, that's for sure," Ferguson said.
"He's a fantastic personality, he's got that great confidence in himself.
"He's got a great personality - his big white teeth are always showing he's enjoying it.
"I know him quite well from the coaching seminars we have and I got a text from him the other day.
"Juergen is going to make a difference to that club, there's absolutely no doubt about it. He's got the personality, he's got the drive, he's got the knowledge and a great presence about him, so I think things are really looking up in Liverpool."
(China Daily 12/09/2015 page24)