JOHANNESBURG - Oscar Pistorius, South Africa's double-amputee "Blade Runner", began community service on Saturday as part of his parole conditions after being released from prison last month.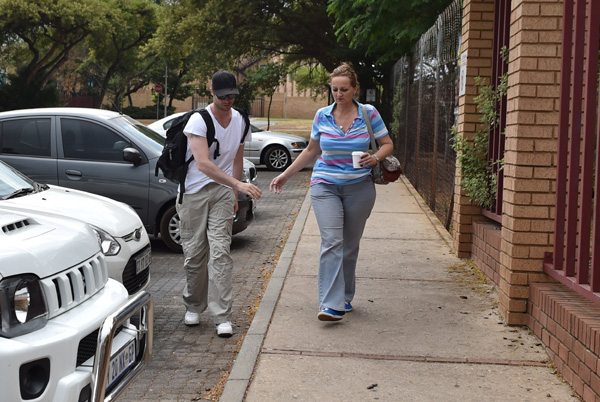 South Africa's "Blade Runner" Oscar Pistorius (L) arrives at a Pretoria police station to perform community service, November 14, 2015.  [Photo/Agencies] 
Pistorius arrived at the Garsfontein police station in Pretoria Saturday morning and walked past reporters and photographers who were waiting outside the station.
He didn't respond to a question from one of the reporters asking how he was doing.
This was Pistorius' first public appearance since his release on October 20 after barely a year into 5-year prison term for killing his girlfriend Reeva Steenkamp on Valentine's Day in 2013.
Under parol conditions, the paralympian will spend the remainder of his five-year sentence under house arrest with some restrictions. But despite this, it's believed that he will be able to work, socialize and even attend events.
State prosecutors have appealed the decision by the Gauteng High Court in Pretoria to sentence Pistorius for a lesser offence, calling on the Supreme Court to convict him of murder and send him back to jail.
The state wants the Supreme Court to rule that judge Thokozile Masipa erred in her judgement and insists that Pistorius should instead be found guilty of murder not capable homicide.
On November 3, the Supreme Court reserved judgment to a date still be determined in the State's appeal to overturn Pistorius' conviction of capable homicide.
If the Supreme Court decides that Judge Masipa was not correct, it will certainly have the power to give him a fresh conviction of murder and to increase his sentence to 15 years.
If it finds him guilty of murder in the first degree, his sentence can actually be increased to life, which equates to 25 years in jail in this country, according to legal expert Advocate Gabriel Shumba.