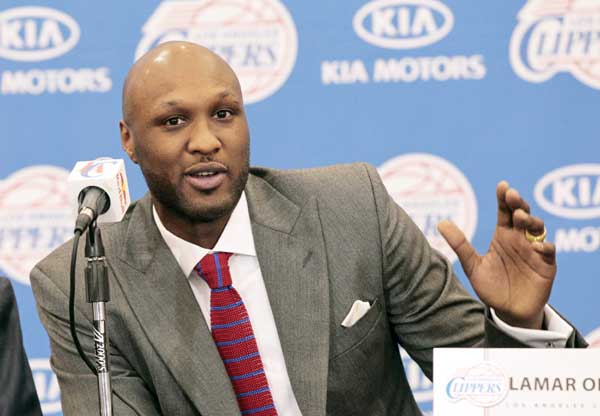 Basketball player Lamar Odom speaks at a news conference announcing his acquisition by the Los Angeles Clippers in Los Angeles, California in this July 2, 2012 file photo. [Photo/Agencies]
Oct 18 - Lamar Odom, the retired NBA star and reality TV personality who spent four days in coma after collapsing in a Nevada brothel, is making steady progress at a Las Vegas hospital, though his condition remains tenuous, celebrity media reported on Sunday.
Odom, 35, has become more responsive and was able to get out of his bed at Sunrise Hospital & Medical Center with assistance and sit in a chair, E! News reported on its website, citing unidentified sources.
Odom, a veteran of 14 seasons in the National Basketball Association, has became a household name as the estranged husband of Khloé Kardashian, a member of reality TV's most famous family.
He was breathing with the help of an oxygen mask and with no signs of distress, E! reported. Though his ability to speak is still limited, he has been able to say a few words to his wife and other members of her celebrity family, according to numerous reports.
"Lamar today again has had moments when he is awake and more responsive," an unnamed source told People Magazine. "He is not talking, but seems to understand when Khloé and the medical staff speak to him."
Neither the Kardashians, Odom's representatives nor the hospital have given any official updates of his condition.
Kardashian, whose divorce from Odom has yet to be finalized, has been at the former NBA star's bedside since he was rushed to the hospital. He was found unresponsive on Tuesday at the Love Ranch South, a legal brothel under Nevada law.
"I have faith in you," she wrote in a Tweet early Sunday morning. "I believe in the power of prayer and positive energy!"
Only Thursday, sources close to the family at the Las Vegas hospital where he is recovering said doctors were giving him a 50-50 chance of survival, according to media reports.
Authorities and staff at the brothel said Odom had used cocaine before collapsing, and had taken as many as 10 tablets of an herbal sexual-enhancement supplement that can cause blood pressure to plummet. The owner of the Love Ranch has denied that Odom used illegal drugs at his establishment.
Odom and Kardashian broke up in 2013 after a whirlwind romance and marriage that was chronicled on the reality television show "Keeping Up with the Kardashians" and its spinoff series, "Khloe & Lamar."