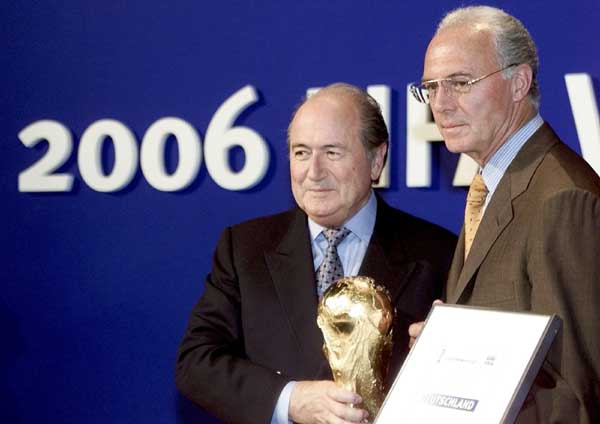 File photo of FIFA President Sepp Blatter (L) handing over a copy of the World Cup to Franz Beckenbauer (R) President of the German 2006 World Cup bid committee, after the announcement that Germany is going to host the 2006 World Cup in Zurich, July 6, 2000. [Photo/Agencies]
BERLIN - Franz Beckenbauer, who headed the organising committee for the 2006 soccer World Cup, on Sunday rejected claims that a slush fund had been set up to buy votes and bring the tournament to Germany back in 2000.
"I never gave money to anyone in order to acquire votes so that Germany is awarded the 2006 World Cup," Beckenbauer, a former World Cup winning player and coach, said in a statement. "And I am certain that no other member of the bid committee did something like that."
Der Spiegel magazine reported on Friday that an alleged slush fund had been set up with 6.7 million euros loaned by the late Adidas CEO Robert Louis-Dreyfus for Germany's World Cup bid committee to pay bribes to FIFA officials in order to help land the tournament for Germany during a vote in 2000.
Der Spiegel said that among those aware of the slush fund had been Beckenbauer, who was the head of the committee, as well as Wolfgang Niersbach, the current president of the German Football Association (DFB) who was a vice president of the organising committee, citing internal documents from the DFB.
Niersbach on Saturday also rejected the allegations and said he had ordered his lawyers to take legal action against the magazine.
The DFB said on Friday its own investigation had found no wrongdoing in the process of being awarded the 2006 World Cup, but said it was investigating a payment of 6.7 million euros ($7.6 million) from the committee to FIFA for a cultural programme during the 2006 World Cup and whether it was used as intended.
Der Spiegel said this payment was a return of a loan paid by Louis-Dreyfus to help it set up the alleged slush fund.
World soccer's governing body FIFA was plunged into the biggest crisis of its 111-year history in May, when 14 soccer officials and sports marketing executives were indicted in the United States on bribery, money laundering and wire fraud charges involving more than $150 million in payments.