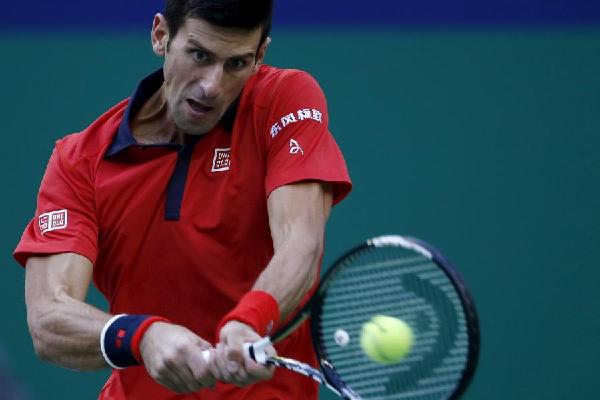 Novak Djokovic of Serbia hits a return to Feliciano Lopez of Spain during their men's singles match at the Shanghai Masters tennis tournament in Shanghai, on Oct 15, 2015. [Photo/Agencies] 
SHANGHAI - World number one Novak Djokovic of Serbia cruised for his third Shanghai Masters title as he defeated 15th-seeded Feliciano Lopez of Spain 6-2, 6-3 in the third round on Thursday.H Djokovic called the shots in the match, and registered 22 winners to just 13 from his opponent while making only 17 unforced errors to 28 of Lopez.
After the victory, Djokovic improved to 7-0 against Lopez and has compiled an awe-inspiring 70 wins of the season.
The Serb has collected eight titles this year, including three Grand Slam titles.
"I think it's a combination of the two - maintaining the high level, the performance, the tennis I have right now, and also working on certain parts of the game that I think can be improved," Djokovic said of his success.
"I was brought up that way and thought to always look for some room for improvement. I still believe there are shots in my game that can be better. I think that's one of the things that keeps me going. It motivates me to play more."