'Watch and learn' is rising star's challenge ahead of facing Djokovic
China's Zhang Ze promised to watch and learn from Novak Djokovic after he registered one of the biggest wins of his career to set up an expected meeting with the world No 1.
Zhang, listed at 219 in the world rankings, savored a rare victory over a top-100 player after he upset Uzbekistan's 70th-ranked Denis Istomin 6-3, 1-6, 6-3 on Monday in the opening round of the China Open.
China's top player is used to hunting out video of the obscure opponents he comes up against on the second-tier Challenger Tour and qualifying tournaments, but he'll have no difficulty finding footage of Djokovic, the 10-time Grand Slam-winner who is on a 25-match unbeaten streak in Beijing.
Nevertheless, the 25-year-old dutifully promised to study hard in his usual fashion before facing the Serbian great - and to enjoy the occasion in front of his home fans.
"After I saw the draw, I knew that I would meet first a qualifier and then Novak. A lot of people say, 'Cheer up, I hope you can meet Novak'," Zhang said.
"What I was focusing on was the first round. I'm really happy. I'll prepare for the next match. I know Novak is the best in the world. I will watch his videos and I will just enjoy the match.
"I will try my best to prepare. I will check out his videos and just try to learn."
While Zhang was contemplating the biggest match of his career, Poland's Agnieszka Radwanska was calling for the tennis season to be slashed to nine months as tired and injured players continue to drop like flies during the end-of-year swing.
At the China Open, world No 2 Maria Sharapova is out with an injury and top seed Simona Halep retired in the first round with an Achilles problem.
Eugenie Bouchard was forced out of her match with the lingering effects of concussion, and Petra Kvitova and Jo-Wilfried Tsonga also lost in the opening round after feeling faint.
Those casualties came on the heels of Garbine Muguruza being unable to finish the Wuhan Open final last week and Serena Williams' announcement that she would skip the end of the season for extra rest.
Radwanska, the fourth seed in Beijing, spoke after struggling past Mona Barthel in three sets on Monday night. Another senior player, Caroline Wozniacki, said many minds were elsewhere at this time of the year.
"For sure, all of us are," she said, when asked if she was now thinking about the end-of-year break. "We can't wait to just get a few weeks off and recharge the batteries."
Radwanska, the world No 8, said players are nearly unanimous in wanting a shorter season and suggested a September cut-off.
"I think everybody wants that," she said, when asked if she would like a shortened schedule - adding that she would be willing to forfeit the prize money from playing extra events.
The final stanza of the tennis season is busy with 15 tournaments on the full women's tour and 14 on the men's after the start of the US Open in late August. Both tours end in November.
Most events are not mandatory but players are scrambling to qualify for the lucrative season finales, which for the women is wide open this year, especially as the injury toll rises.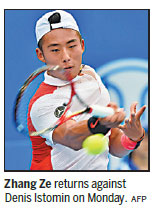 (China Daily 10/07/2015 page12)