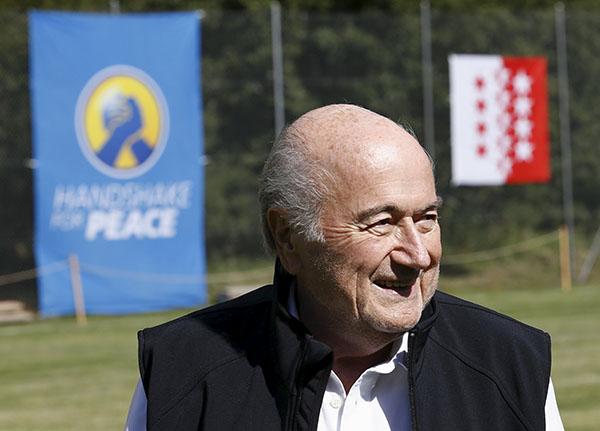 FIFA President Sepp Blatter smiles before the first game of the so-called "Sepp Blatter tournament" in Blatter's home-town Ulrichen, Switzerland, August 22, 2015. [Photo/Agencies]
Zurich/New York - The Swiss Attorney General's Office will investigate a contract for media rights to the 2010 and 2014 World Cups, two Swiss law enforcement officials said over the weekend.
The inquiry follows a television news report asserting that FIFA sold the rights for rates far below market to a Caribbean soccer organization, whose leader then resold them for much more.
The interest by Swiss prosecutors, who are already investigating how FIFA awarded the 2018 and 2022 World Cup hosting rights to Russia and Qatar, expands the scrutiny facing FIFA and its president, Sepp Blatter, along with Jack Warner, former head of the Caribbean soccer federation.
Warner is under indictment in the United States for an alleged bribery scheme relating to other soccer media rights in the Americas. Blatter faces no charges. Both men have denied any wrongdoing.
The latest inquiry involves a 2005 contract to televise the 2010 and 2014 World Cups in parts of the Caribbean.
Swiss broadcaster SRF reported on Friday that FIFA signed over the media rights to the Caribbean Football Union for $600,000, but that Warner, head of the CFU at the time, then transferred the rights to his own company and resold them in a deal worth between $15 million and $20 million.
SRF posted excerpts of the contract on its website showing that Blatter and Warner signed it themselves.
A spokeswoman for US prosecutors in Brooklyn, New York did not respond to a request for comment on whether American authorities, who are running their own sweeping investigation of alleged corruption in soccer, would join Swiss law enforcement in looking at the contract.
A US lawyer for Warner declined to comment, and the Caribbean Football Union did not respond to an after-hours request for comment on Sunday. An attorney for Blatter referred to a statement issued by FIFA on Saturday.
In its statement, the organization said the agreement with the Caribbean group promised FIFA much more than the up-front fee, and that FIFA was to receive half of any profits related to subcontracting the rights.
If FIFA was due to receive substantially more than the upfront payment, that could undercut any argument that the fee paid was substantially below market value.
FIFA also said it terminated the contract in 2011 after the Caribbean soccer organization failed to meet its financial obligations or follow subcontracting requirements.
Blatter has not been accused of wrongdoing by Swiss or US authorities. Among the issues the FBI is examining is Blatter's stewardship of FIFA, sources have said.
Reuters was unable to independently verify the SRF report, and neither the broadcaster nor FIFA have made the full contract available. It remained unclear how much Warner might have made from the deal or whether the Caribbean soccer federation breached the contract as alleged by FIFA. Reuters also couldn't determine whether the contract's terms stipulated that FIFA ultimately would collect much more than the up-front fee.
World soccer was thrown into turmoil in May when US prosecutors disclosed an indictment of nine soccer officials, including several from FIFA, and five sports marketing executives. Authorities charged them, including Warner, with wire fraud and money-laundering involving more than $150 million.
Swiss Attorney General Michael Lauber and US Attorney General Loretta Lynch are due to speak about their FIFA investigations on Monday at a news conference in Zurich.
Warner, who left organized soccer in 2011, has said in the past that he had evidence he was gifted World Cup television rights in his region a number of times, including for the 2010 and 2014 events, in return for securing votes for Blatter's campaigns for FIFA president. He said the money made from media rights was used "to develop Caribbean football."
FIFA has dismissed Warner's claims as false and said that television rights had nothing do with Blatter's election campaigns.
Since his indictment in May, Warner has remained in Trinidad and vowed to resist US efforts to bring him to New York to face charges. He was president of the regional soccer confederation CONCACAF for 21 years and was a FIFA executive committee member.