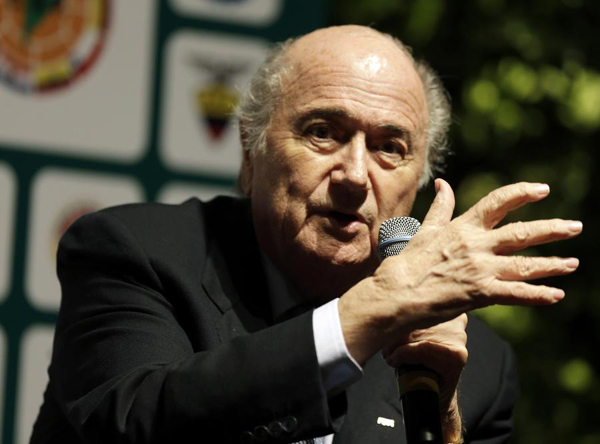 FIFA President Sepp Blatter speaks during a news conference after the CONMEBOL ordinary congress in Luque March 4, 2015. [Photo/Agencies]
LONDON - Sepp Blatter was warned from within FIFA on Sunday not to attempt to backtrack on his pledge to quit as president.
Domenico Scala, who is overseeing the presidential election, said that a leadership change is an essential component of the far-reaching reforms required to overhaul FIFA amid deepening criminal investigations into soccer corruption.
Scala's blunt comments came after Swiss newspaper Schweiz am Sonntag, citing unnamed sources, reported that Blatter is considering trying to retain the presidency after receiving support from Africa and Asia.
FIFA did not comment on the report. Blatter announced on June 2 - only four days after being re-elected for a fifth term - that he would stand down from the post after a successor was chosen sometime between December and February.
Scala, head of FIFA's audit and compliance committee, is urging Blatter not to consider back-tracking on that pledge. The 79-year-old Blatter has already reneged on a 2011 promise to leave office in 2015.
"For me, the reforms are the central topic," Scala said in a statement. "That is why I think it is clearly indispensable to follow through with the initiated process of leadership change as it has been announced."
The FIFA executive committee will meet in Zurich on July 20 to set the election date. Lawmakers from the 28-nation European Parliament last week voted on a resolution calling for Blatter to speed up his announced resignation and let FIFA appoint an interim leader.