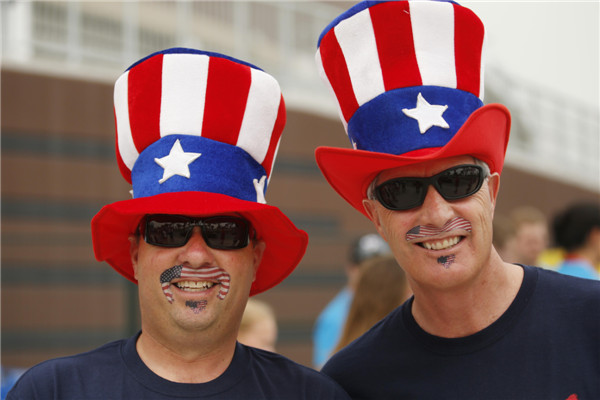 USA fans Scott Boehm and Greg O'Shea both of Bismarck , ND pose for a photo before a Group D soccer match in the 2015 women's World Cup against Australia at Winnipeg Stadium in Winnipeg, Canada, Jun 8, 2015. [Photo/Agencies]
VANCOUVER - While the 2015 women's World Cup is underway in Canada, football fans were indulged in joy and excitement at one of the hosting cities, Vancouver.
Not only the Canadians, but also those from other countries and regions, were cheering in front of the big screens set up in Vancouver's FIFA Fan zone on Thursday when China beat the Netherlands 1-0 through a last-minute goal from Wang Lisi.
Juan of the United States was delighted to watch the play of the world's best women's football teams.
"It's so good. I love it because they play the best games, and also I go for USA, but maybe Canada has a great chance. Germany also. I hope to see Germany and USA fight for the finals."
Vancouver city officials launched the fan zone as a free gathering space for World Cup fans to watch the matches, meet each other and celebrate the sport of football.
Geri Donnelly, a former Canadian footballer who competed in the second women's World Cup in Sweden in 1995, was among those in attendance for the group A match between China and the Netherlands. She told Xinhua that the women's game had evolved and improved since the early days of the World Cup.
"I think the skill level has definitely increased over the last 20 years. So that would be one aspect, and the other is the fan base. I think in the 99' World Cup, the United States hosted and they did a really good job with the media and getting fans out to watch the game, and it's just grown from there. Here in Canada, you just have to look, it's two hours before the game and it's already a quarter full here so," Donnelly said.
According to local organizers, football fans from Switzerland, Japan, the US and - of course Canada - have been filling up the beer gardens in front of the big screens at the early stage of the tournament.