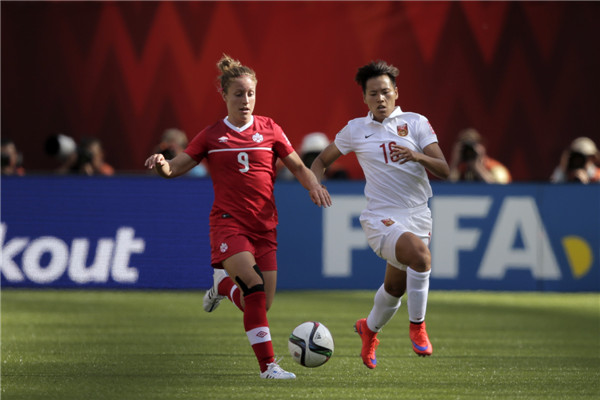 Canada defender Josee Belanger (9) controls the ball against China midfielder Han Peng (18) during the second half in a Group A soccer match in the 2015 women's World Cup at Commonwealth Stadium in Edmonton, Alberta, Canada, Jun 6, 2015. [Photo/Agencies]
BEIJING - The Women's World Cup in Canada has enjoyed record high TV viewing across the world's major markets, according to the FIFA official website on Wednesday.
Some 1.8 million viewers sat in front of the television during the opening game between host Canada and China, breaking the previous TV viewing record for the tournament.
In China, 2.3 million TV viewers enjoyed their national TV station's coverage of matches which increased a lot in comparison with the 1.3 million in 2011.
United States broadcaster Fox Sports 1 attracted 3.3 million viewers during the US vs Australia game, while in Japan, the Fuji TV also got 4.2 million audiences for the game between Japan and Switzerland.
England's opener against France drew 1.5 million viewers to BBC2, which is bigger than that in 2011.
All the 24 teams have finished their first-round play in the Women's World Cup by Wednesday. The group stage will end in a week.