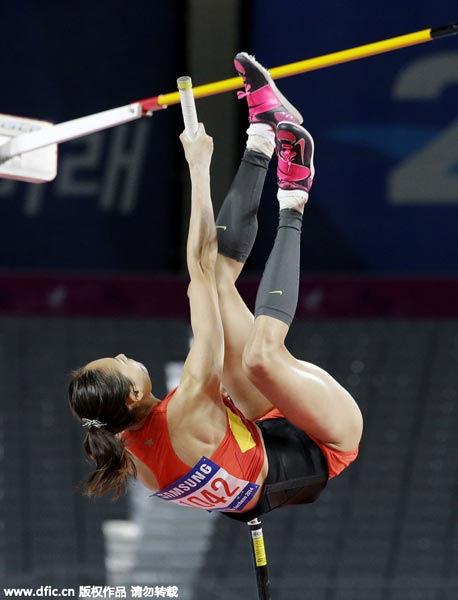 Li Ling competes in the women's pole vault final at the 17th Asian Games in Incheon, South Korea, Sept 30, 2014. [Photo/IC]
WUHAN, China - China's reigning Asian Games champion Li Ling renewed the Asian record of women's pole vault at the Asian Athletcis Championships on Saturday.
Li, winner of the event at 2014 IAAF Continental Cup in Marrakech, rewrote the old 4.65-meter AR, which was created by herself at the 2013 National Games, to 4.66 meters. Li's teammate Xu Huiqin took second in 4.30, while Japanese Tomomi Abiko was third in 4.20.
"I was in good form today," she said. "I just want to use my skills and perform my level. The result will make me feel more confident in future training and competition. The training is hard, but a new height makes all the effort paid off."
Though it took Li about two years to break her own Asian record ,she said the new record was expected.
"I thought I could break it again when I broke the AR in the first time," she said. "I just didn't know the height. I didn't think too much during the competition, and I just wanted to jump higher."
Li hopes she can do better at the upcoming World Championships in August.
"If I keep my form and training well, I think I can make a better result at the Worlds," she said. "China's best result for pole vault in the Worlds is fifth place, and I hope I can make a better finish."