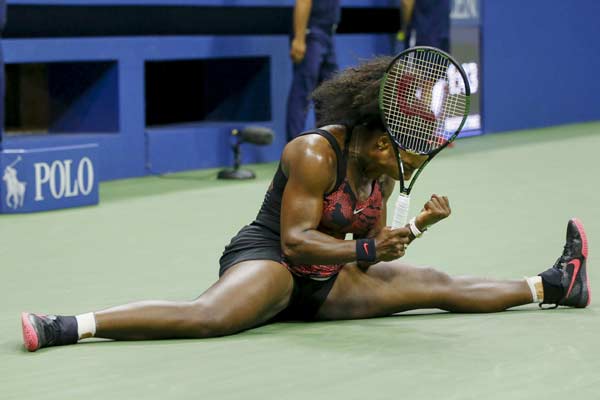 Serena Williams of the US celebrates a point against compatriot Bethanie Mattek-Sands in their third round match at the US Open Championships tennis tournament in New York, September 4, 2015. [Photo/Agencies]
NEW YORK - Even if her latest troublesome first set had finished only an hour earlier, it seemed a distant memory by the time Serena Williams smacked a cross-court forehand passing winner on the run and wound up doing the splits behind the baseline.
She leaned forward, yelled and shook both fists, victory nearly hers.
Yes, Williams knows as well as anyone that you can't count her out, no matter the deficit, no matter how the pressure might be mounting as she closes in on completing tennis' first true Grand Slam in 27 years.
Eight times this season at major tournaments, Williams has dropped the opening set. Eight times, she has won.
The latest comeback came in the third round of the US Open on Friday night, when Williams figured out a way to deal with a tricky opponent and get her own game going before it was too late, eventually emerging to grab the last eight games for a 3-6, 7-5, 6-0 victory over American wild-card entry Bethanie Mattek-Sands.
"Getting out of it so many times definitely helps me," Williams said. "It's definitely not something I want to do, though. But, hey, a win's a win, I guess."
Sure is. Williams ran her Grand Slam record to 24-0 in 2015, and 31-0 since her last defeat at a major, at Wimbledon in June 2014.
At 5-all in the second set, Mattek-Sands was two games from completing the upset. She would not win another game.
"She's a great closer," Mattek-Sands said. "Always has been."
After they left Arthur Ashe Stadium, Rafael Nadal failed to close out a victory despite taking the first two sets, the first time he has blown that big a lead in a Grand Slam match. The eighth-seeded Nadal's 3-6, 4-6, 6-4, 6-3, 6-4 loss to the 32nd-seeded Fabio Fognini of Italy also ends the Spaniard's 10-year streak of winning at least one major title per season. He lost in the quarterfinals at the Australian Open and the French Open, then the second round at Wimbledon.