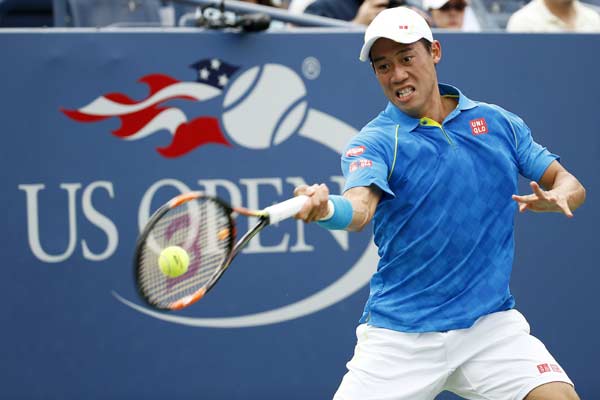 Kei Nishikori of Japan returns a shot to Benoit Paire (not pictured) of France on day one of the 2015 US in New York, USA, Aug 31, 2015. [Photo/Agencies]
NEW YORK - A year after his run all the way to his first Grand Slam final, Kei Nishikori's stay at the US Open lasted only a few hours.
The fourth-seeded Nishikori had two match points in the fourth-set tiebreaker against 41st-ranked Benoit Paire, but the Frenchman saved both of them then took control in the fifth for a 6-4, 3-6, 4-6, 7-6 (6), 6-4 victory Monday.
It was the first win of his career against an opponent ranked in the top five.
"When I saw the draw against Kei, I said, 'Bad luck,'" Paire recalled.
But then he reminded himself he had been competitive in two previous losses to the Japanese star.
"It's not like if I play against Roger Federer," Paire said, explaining he knew he could get something going against Nishikori's serve. "Against Kei, I know I can play."
Nishikori had withdrawn from the hard-court warmup at Cincinnati, citing a hip injury, but he said Monday he was fine physically. Still, he looked sluggish late in the match, which lasted 3 hours, 14 minutes on a steamy day.
"He was very aggressive, so there was many rallies and it was tough to get rhythm," Nishikori said. "He hits a lot of drop shots and good serves."
Last year at Flushing Meadows, Nishikori became the first man from Asia to reach a major final, where he lost to Marin Cilic.