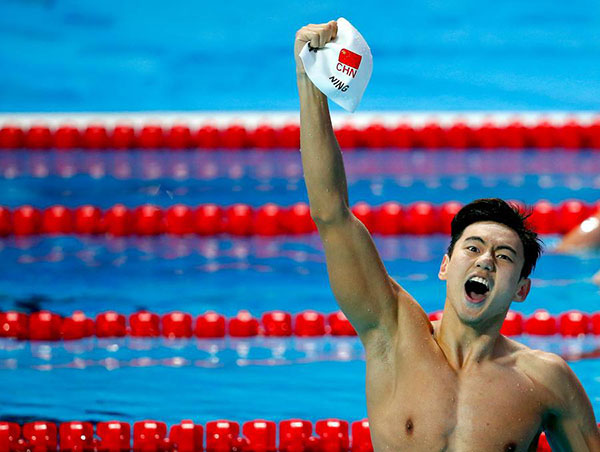 China's Ning Zetao celebrates after winning the men's 100m freestyle final at the Aquatics World Championships in Kazan, Russia, Aug 6, 2015. [Photo/Agencies]
Despite Ning's new-found fame, Sun Yang is still the top icon of the Chinese swimming team, said rising swimming star Ning Zetao during an interview by China Central Television on Wednesday.
Ning Zetao, 22, won the men's 100-meter freestyle at the recently-concluded FINA World Championships in Kazan, Russia on Aug 6,becoming the first Asian champion in this event. The champion has been described as a new "national idol" in many media outlets and become the sweetheart of many Chinese women.
Posts containing the hashtag #Ning Zetao's girlfriend have been read 270 million times on Sina Weibo, China's Twitter-like social networking site, as 185,000 Chinese Internet users engaged in the conversation. Many female Weibo users even photoshopped Ning Zetao's photos on their selfies and pretended to be Ning's girlfriends.
Though Sun Yang, 24, China's world record-holder of the 1,500-meter freestyle and London Olympic champion with two gold medals, won the MVP award at Kazan Worlds, he was forced to withdraw from the 1,500-meter final due to a heart problem and was also involved in a conflict with a female athlete during a warm up at the championship.
"My friend told me about the biased online comments about me and Sun Yang, and I think it's unnecessary to compare me with Sun Yang, because I am only a sprinter who hopes to contribute to the Chinese swimming team at Kazan Worlds", Ning said during the interview.
"In my mind, Sun is an idol for the other swimmers in our team to learn from whether during the exercises or competitions,"the sprinter said.
Sun's attitude and concentration span during the games is worth learning from, so "he is undoubtedly the top icon of our team forever," the twenty-two-year-old champion said.
"One can never understand what Sun Yang goes through if one doesn't take part in the finals. Only when you compete in the finals will you understand how much Sun Yang has to bear," said Ning.
Ning went on to say, "The pressure Sun has to face is three or four times what I have to face." Sun is the first male gold winner in the Chinese swimming team and the leader of the other teammates, so the weight of expectations lies on his shoulders.
Despite his success, Ning's path to his Kazan win was anything but smooth. "I didn't feel happy after the first day of swimming, because I was not pleased with my performance," said the young man.
"But my family kept persuading me not to think too much and just try my best at my Kazan debut. It's really very hard to accomplish this without my family's support and companionship," the young sprinter added.
In response to the news that he was sent to hospital after being crowned champion, Ning said frankly that he felt some physiological discomfort and began to vomit with a low fever after winning the finals since he went all out in the five games in Kazan, which physically exhausted him.
Aside from his warm reception on the Internet, the handsome swimming star has also been courted by sponsors who had previously engaged NBA star Yao Ming, 110-meter hurdler Liu Xiang and tennis player Li Na.
Asked about these sponsors, Ning said, "I would like to keep steady, be myself and try to do my best, though I feel gratitude to the sponsors. I am not only an athlete, but also a soldier."