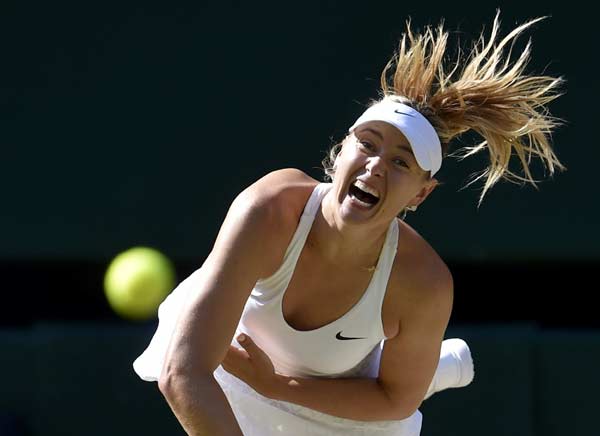 Maria Sharapova of Russia serves during her match against Serena Williams of the USA at the Wimbledon Tennis Championships in London, July 9, 2015. [Photo/Agencies]
In sum, Williams made Sharapova look like some sort of middle-of-the-pack wannabe, rather than the five-time major champion, career Grand Slam owner and former No. 1 that she is.
"Nothing to do with Sharapova," said Williams' coach, Patrick Mouratoglou. "She does this to most of the top 10 players. It's true. She's dominating the game for a long time."
Williams beat her sister Venus in the fourth round and another past No. 1 and multiple major winner, Victoria Azarenka, in the quarterfinals.
On Saturday, with so much at stake, Williams will face No. 20 Garbine Muguruza of Spain, who advanced to her first Grand Slam final by eliminating No. 13 Agnieszka Radwanska of Poland 6-2, 3-6, 6-3.
"If you want to win a Grand Slam, when you dream, you say, `I want Serena in the final,"' the 21-year-old Muguruza said. "She's like one of the best players in all these years."