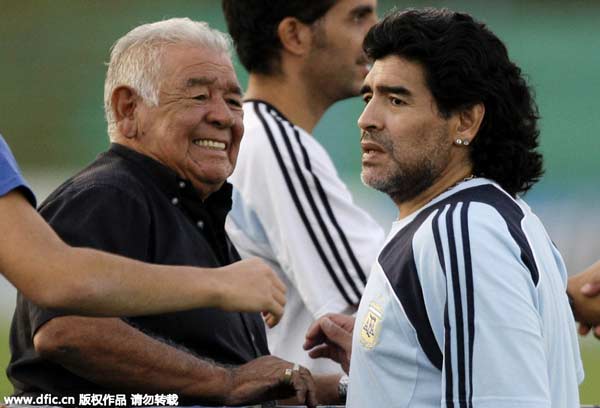 File photo of Maradona (R) with his father. [Photo/IC]
BUENOS AIRES -- Argentinian football star Diego Maradona appeared moved on Thursday by the death of his father Don Diego as he assured "he went peacefully."
"Unfortunately he has left us. But he went peacefully. All his children were there, by his side. All the love from all of us went with him," said Maradona.
The 54-year-old former Argentina player said these words in a recorded message distributed by local media minutes after his father's death was officially confirmed.
The World Cup Mexico 1986 champion also thanked "everyone who has supported me" and "the doctors who did everything they could to keep him alive."
"I also thanks the journalists who always respected the situation especially the problem of entering and leaving the clinic. I thank you so much and all the Argentinians who prayed for my father," added the former footballer.
Maradona's 87-year-old father, nicknamed "Chitoro", passed away on Thursday after a lengthy internment in a Buenos Aires medical centre.