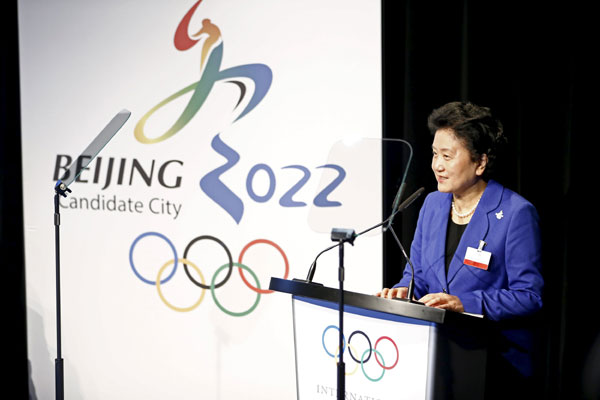 China's vice premier Liu Yandong speaks at the briefing for International Olympic Committee (IOC) members by the 2022 Winter Olympic Games candidate city of Beijing at the Olympic Museum in Lausanne, Switzerland, June 9, 2015.[Photo/Agencies]
Chinese vice premier Liu Yandong reiterated Beijing's offer of assured delivery and great prospects for winter sports during a presentation to the International Olympic Committee (IOC) at the 2022 Olympic Winter Games Candidate City Briefing in Lausanne, Switzerland on Tuesday.
The eight-member panel put forward a strong case for Beijing, explaining how the bid embraces the Olympic Agenda 2020 principles through its concept of athlete-centered, sustainable and economical Games, while offering much more: an opportunity to grow winter sports in one of the biggest markets in the world, as well as an enjoyable atmosphere of a big cosmopolitan city and an exceptional mountain setting at the foot of the Great Wall.
One behalf of the Chinese government, the vice premier confirmed the full government support for Beijing's bid.
"We have always be a loyal partner with the IOC," she said. "The Chinese people are passionate about the Olympic Winter Games and they are eager to contribute to the Games."
According to Liu Yandong, Beijing's bid will promote Olympic solidarity, friendship and peace among the Chinese people, encourage over 300 million Chinese to participate in winter sports and promote healthy lifestyles in China.
"We are upgrading the Chinese Olympic Museum, and we will make the International Winter Sports Expo as an annual event," the vice Premier said.
International Olympic Committee President Thomas Bach said that in today's presentations at the 2022 Candidate Cities Briefing for IOC members: "Beijing showed excellent use of the 2008 legacy'' of hosting the Summer Olympics.
He also said that Beijing plans to create a "sporting legacy by giving more than 300 million Chinese access to winter sports''.
Commenting on the presentations by Beijing and Almaty, he said: "It was really impressive to see how both cities had embraced the reforms of Olympic Agenda 2020 just six months after the recommendations were unanimously approved by the IOC.
"You could see a clear focus in both bids on sustainability and affordability. Both presented very well balanced budgets, and both clearly demonstrated what they wanted to achieve, following Olympic Agenda 2020, by building their proposals into the long-term development plans of their city, region and country.''
Bach said both cities had different approaches and are "starting from different points'', with Almaty planning to develop a traditional winter sports center that will leave the "lasting legacy of transforming the region''.
"On the other hand, Beijing showed excellent use of the 2008 legacy, and also plans to create a sporting legacy by giving more than 300 million Chinese access to winter sports,'' he added.