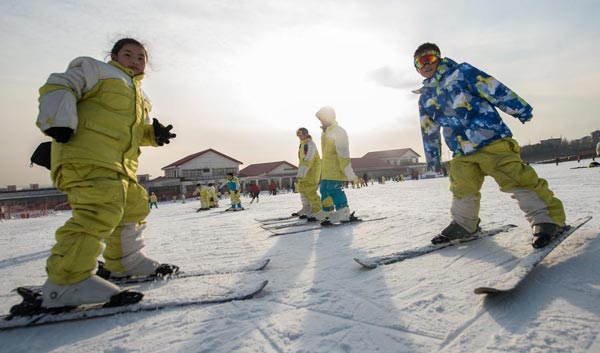 Students take a skiing lesson in Yanqing district, 90km northwest of downtown Beijing, Dec 18, 2014. A new venue for snow sports, including alpine skiing, bobsledding and the skeleton, will be built in the mountain area of Yanqing county, [Photo/Xinhua]
LAUSANNE - Beijing hopes to win favor of the International Olympic Committee (IOC) members with their emphatic bidding presentation on Tuesday, underlining sustainable development, economical Games and athletes-centered Games, which is seen as one last important chance to win endorsement from IOC members in run-up to the final vote on July 31.
Candidate cities Almaty, Kazakhstan, and Beijing, China, will present their respective bidding projects Tuesday to IOC members in the Swiss city of Lausanne in a bid to clinch the 2022 Winter Olympic and Paralympic Winter Games.
June 9 will see both delegations conduct presentations and answering questions in the Olympic Museum, while further 2022 candidate city promotional activities will be held to IOC members.
Since the inception of the bid, we have planned an inspired vision of a 'Joyful Rendezvous upon Pure Ice and Snow', highlighting the bid's three concepts of hosting a Winter Games that is 'athlete-centered, sustainable and economical'. We have followed the IOC's technical requirements, and made full use of our Olympic legacy and our rich experience of hosting international events," said Wang Anshun, President of the Beijing 2022 Bid Committee and Mayor of Beijing.
These three concepts are in line with IOC's 40-point reform package which was approved at the 127th IOC Session last December, and many IOC members have already known that through its evaluation commission's factfinding visits to Beijing and its co-bidder Zhangjiakou.
Among the 40 resolutions, attempt to reduce the cost of bidding for hosting the Games is eye-catching. The reforms also include a call for sustainability in all aspects of the Olympic Games and expect candidate cities to present a project that fits their sporting, economic, social and environmental needs.
The Beijing 2022 Bid Committee pay high attention to complying with these reforms, and IOC President Thomas Bach has already given them a thumbs-up.